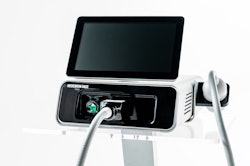 The Neveskin Face cold facial wand (41 - 44°F) is used on the face followed by a massage with warm hands. The precise wand is designed to contour the whole face including hard-to-reach places like the eyes, cheekbones and jawline. The massaging motion causes blood vessels to narrow and widen, boosting blood circulation and collagen production to reduce the signs of aging while brightening, contouring, and lifting.
The FDA-registered device uses the same cooling technology as Cryoskin alongside new warmer temperatures, a more precise facial wand and six new protocols.
The 6 new protocols:
Standard/Extended: Brightens, contours, and firms
Collagen Boost: Promotes collagen and elastin production
Regeneration: Tightens and brightens
Ultra Lift: Lifts, firms, and reduces signs of aging
Calming: Reduces inflammation from acne or other causes
Age-Defying Upgrade: Reduces fine lines and wrinkles in targeted areas
Ultimate Eye Upgrade: Reduces the appearance of dark circles and puffiness in the targeted area around the eyes, brightening the area and reducing signs of aging 
How it works:
After a full consultation, choose a warm or cool protocol based on the client's individual needs.
Then, use the wand to massage their face, using a range of carefully designed techniques.
Each protocol boosts blood flow and brings more oxygen and nutrients to the skin.
More oxygen means more collagen and elastin which strengthen the dermis and epidermis, improving skin tone while reducing pores, fine lines and wrinkles.