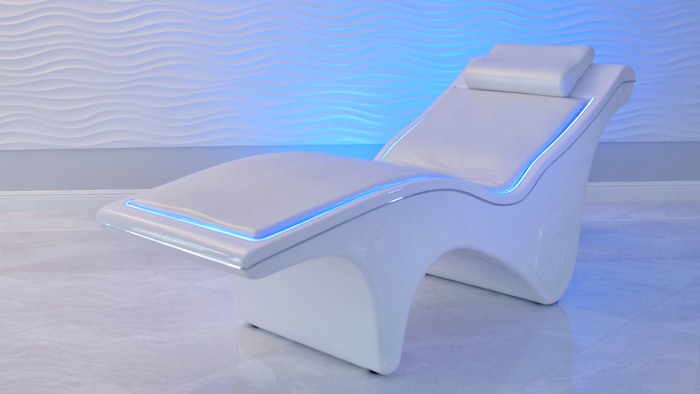 The PureWave Vemi is a luxury wellness lounger and energy delivery system that combines three distinct technologies—vibroacoustic, electromagnetic and far infrared heat (VEMI)—to reset, restore and rebalance the integrity of the body during a 30-minute session. The Vemi establishes clarity and harmony in the mind and body, creating an emotional purge that can benefit the entire body and encourage personal growth.
Related: Light Therapy Can Provide Full Body Healing
The PureWave Vemi uses healing sound resonance in tandem with full-body vibrations, natural earth frequencies and Infrared heat for a comprehensive mind, body and spirit experience.
The device bio-synchronizes the stacking of the three modalities with frequency waveforms. The millions of frequencies automatically target areas in the body that are low in cellular voltage, and by using extremely low frequencies, the device re-establishes coherence and order within the client's bio-physiology, helping to restore balance between the brain, heart rate and respiration rate.
By establishing an optimal state of ionic exchange for cells and optimal conditions for cellular replication, the device enhances cellular voltage and creates more healthy cells, which produces more energy for the body.
The three healing modalities all support body detoxification and the treatment balances the sympathetic and parasympathetic nervous systems to promote deep relaxation and stress relief for the body and mind.