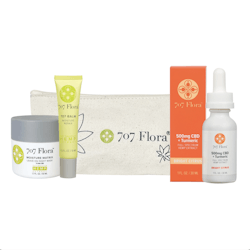 707 Flora's Radiant Jet-Setter Berry Bliss is a holiday gift set that includes the Moisture Matrix, 707 Balm, CBD + Turmeric Tincture and Canvas Makeup Bag. 
Product Details
Moisture Matrix: This moisturizing leave on night mask contains botanical extracts to revitalize and enhance skin's youthful glow.  
707 Balm: This multipurpose SOS balm features a radical micro algae blend that works in synergy with full spectrum CBD to recondition the skin while restoring the skin's natural barrier. 
CBD + Turmeric Tincture: The high-grade, full spectrum hemp extract and high-potency turmeric promote a sense of peace and well-being.
707-932-0394, www.707flora.com