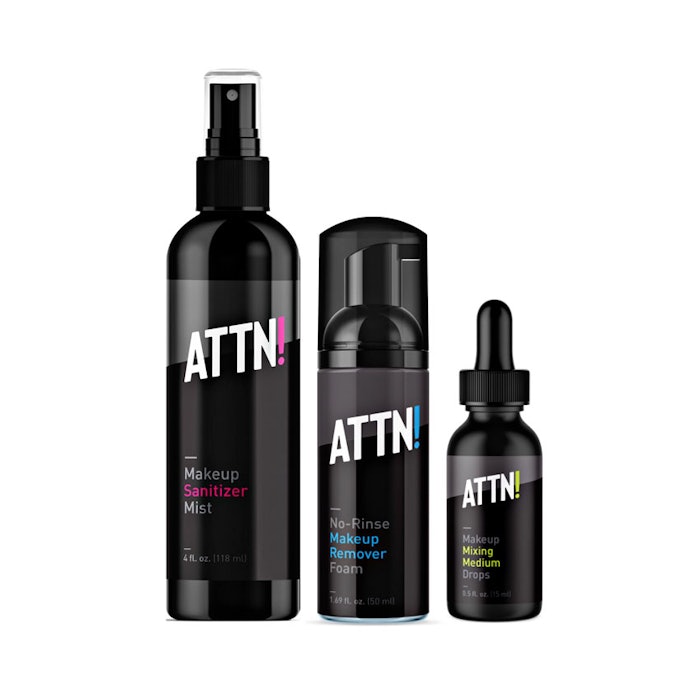 ATTN! Beauty's All-Natural Trio of Beauty Solution Products are makeup cleaners that do not destroy the integrity of the cosmetics. 
ATTN! Makeup Sanitizer Mist has a quick-drying formula that cleans and disinfects all powder and cream-based cosmetics, as well as tools, palettes and spatulas. The mist cleans quickly without leaving an oily residue on your tools or cosmetics. All ingredients are all-natural, organic, vegan, cruelty-free, gluten-free, nut-free, paraben-free and artificial fragrance-free.
ATTN! No-Rinse Makeup Remover Foam is a moisturizing, cleansing remover that's gentle enough for all skin types. This fragrance-free foam moisturizes skin while cleaning and removing all makeup—even waterproof products. Massage the foam onto your skin and use a soft tissue or cotton puff to gently wipe away for hydrating, residue-free makeup removal.
ATTN! Makeup Mixing Medium Drops enhance cosmetic products. Add a drop to your makeup to intensify, combine or revive your products. Aloe Vera Gel locks in your look, creating a waterproof, sweat-proof application, while also moisturizing the sensitive areas of the face. The precision dropper allows for total control of the amount used to alter the intensity of color for your shadows, liners or brow applications.
312-621-0801, www.attnbeauty.com