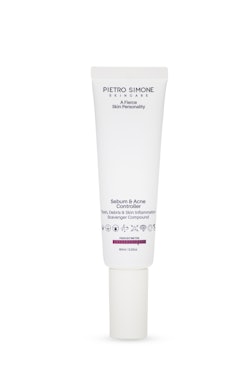 Pietro Simone Sebum & Acne Controller is a supercharged serum compound blended with an encapsulation delivery system, bio-fermentations and dynamic active ingredients that diminish, soothe and support compromised epidermises with acne, rosacea and excess sebum production. Multiple natural compounds calm, regulate, balance and restore the skin's well-being.
Key Ingredients:
The Sebum & Acne Controller uses an encapsulated CBD oil delivery system to inhibit sebocyte proliferation without affecting their viability, diminishing sebum production and bacterial growth. Actively reduces skin inflammation by regulating the skin-affected microbiome.
Rose Duet Stem Cell Culture performs an anti-microbial, anti-bacterial and anti-oxidant action to alleviate acne, rosacea and pollution-related skin problems. Madecassoside, Chamomile water, Gingko Biloba Terpenes and Copper Sulfate combine to produce an intensive, extensive and diligent anti-itching, anti-redness and anti-desquamation effect to relieve sensitive, atopic and psoriasis-prone skin.
Pseudoalteromonas Ferment Extract, a microorganism from Antarctica that is rich in 3 amino acids, regenerates and protects the skin while counteracting excess sebum production. Retains hydration, promotes healing and increases collagen and elastin production. 
Advanced probiotic compound restores skin's instinctive defenses, regulates the microbiota pathways, soothes skin irritation, strengthens the skin's barrier and significantly improves moisture retention.
Bio-fermented Reishi compound accelerates skin's natural regenerating and healing properties, prevents further imperfections and residual marks, improves skin's integrity and increases optimum moisturizing levels.
Italian Bella Complex Target is Pietro's signature compound supports the skin's regeneration process.
Sage, Rosemary, Oregano and Chamomile botanical extracts naturally boost the cleansing process, infusing anti-oxidant, anti-inflammatory and anti-blemish properties.