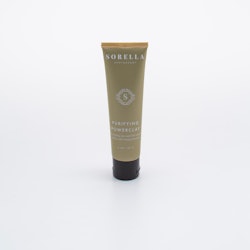 Sorella Apothecary Purifying Powerclay is an instantly cooling mask that combines bentonite and kaolin clay to draw out impurities while improving breakouts. Other key ingredients include burdock root and horsetail extract, which provides soothing and smoothing properties and a boost of antioxidants.
Sorella's Purifying Powerclay mask is suitable for all skin types. Its recommended use is one to three times a week to even skin tone, calm complexion, reduce inflammation, draw out impurities and balance oil production.
Emily Sindlinger, co-founder of Sorella Apothecary, said, "We are so excited to add this product to our mask collection. It elevates our offerings and gives our partners more variety when building a treatment with our professional masks. The ingredients in this mask make it extremely hydrating and boosts skin barrier function which will be great for all clients."
Key Ingredients
Its astringent & antibacterial properties help in decreasing inflammation to calm & soothe the skin.
This provides a boost of antioxidants to enrich & smooth skin texture.
This enhances the antimicrobial properties of the skin while decreasing inflammation & healing blemishes.
A humectant containing antioxidants that repair the skin, boost barrier function, & deeply hydrate.
Contains naturally skin soothing & anti-inflammatory properties to even skin tone and heal post-breakout pigmentation spots.
The duo gently draws out impurities while regulating oil production.