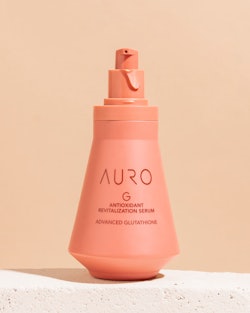 Auro Skincare's G Antioxidant Revitalization Serum contains a maximum-potency concentration of glutathione that is delivered through Auro GSH technology to optimize absorption.
 

Key Ingredients & Benefits
Glutathione + Auro GSH: The antioxidant detoxifies skin of oxidative stress to reduce current signs of aging and defend against future damage. 
Radish Root Extract: Vitamins A, B, C, E and K provide additional antioxidant benefits, while also helping to moisturize and soothe skin.
Honeysuckle Flower Extract: Two forms of natural honeysuckle provide antibacterial and anti-inflammatory benefits.
Aspen Bark Extract: The ingredient naturally and gently hydrates and softens skin for a smooth complexion.
562-352-9630, www.aurowellness.com