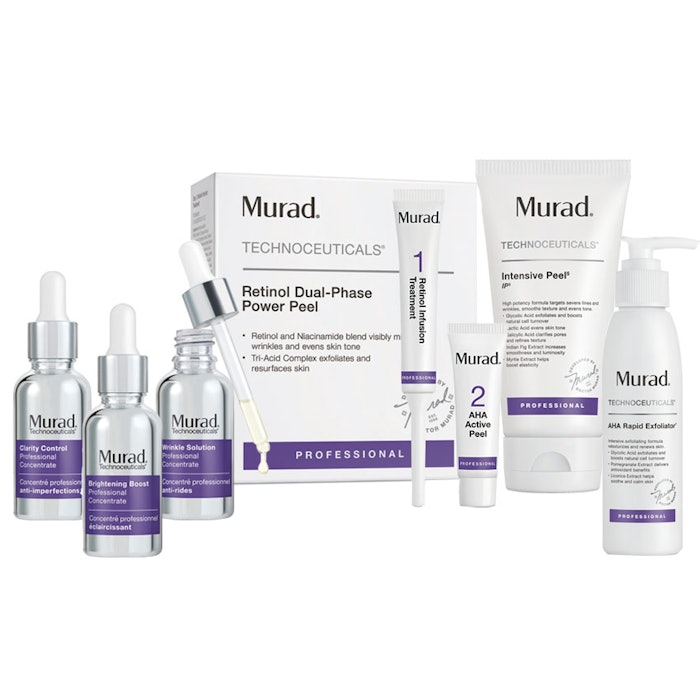 The Technoceuticals Collection combines advanced technology with Murad's signature professional treatments to target specific skin concerns like fine lines, wrinkles, dullness and acne. This collection uses key ingredients to address the signs of aging on a cellular level.
Products Included in This Collection
Wrinkle Solution Professional Concentrate: This concentrate works against the look of lines and wrinkles for a more youthful appearance.
Brightening Boost Professional Concentrate: This concentrate works to restore vibrancy and luminosity to the skin while diminishing dark spots and dullness.
Clarity Control Professional Concentrate: This concentrate uses salicylic acid to decongest and minimize pores to provide clearer, smoother and refined skin.
AHA Rapid Exfoliator: This level one peel exfoliates the skin to provide a retexturize and renew the skin.
Intensive Peel 5: This level two peel targets lines and wrinkles while evening skin tone and texture.
Retinol Dual-Phase Power Peel: This level three peel uses a dual-phase system that minimizes lines and deep wrinkles while boosting skin's radiance.
800-336-8723, www.murad.com