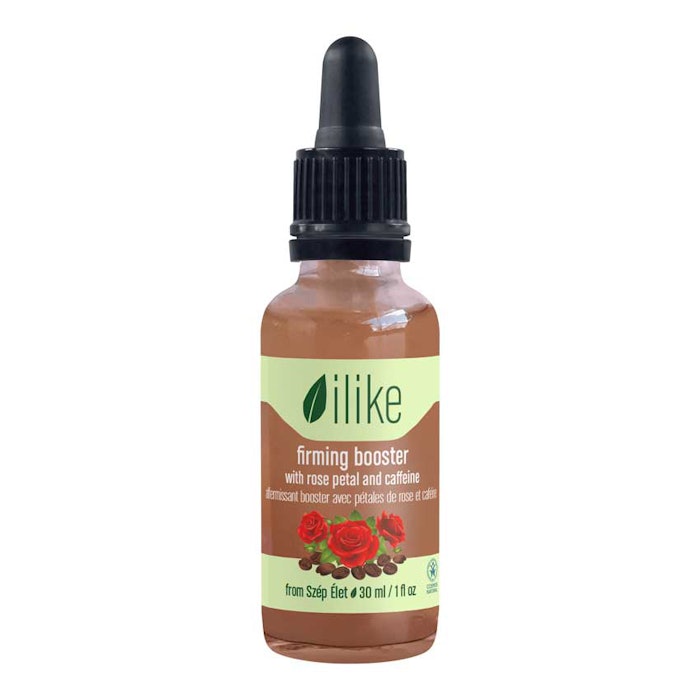 ilike Organic Skin Care's Firming Booster with Rose Petal and Caffeine reduces wrinkle depth and length, improves elasticity and tones/hydrates skin. The booster contains two types of hyaluronic acid and caffeine for an immediate moisture boost and skin energizing. 
Active Ingredients
Red Rose Petals and Oil promotes healthy skin cells by improving the mineral and vitamin content, as well as deep hydration of the skin. Rose oil has a toning and astringent effect on the capillaries just below the skin surface, which makes it useful in diminishing the redness caused by enlarged capillaries. Rose petals contain vitamins A, B, C, D and E. They also contain bioflavonoids, citric acid, flavonoids, fructose, malic acid, tannins and zinc.
Caffeine constricts the blood vessels and helps with inflammation and puffiness by improving circulation. It also tightens and brightens the skin, refreshes, recharges, and visibly smooths away wrinkles and fine lines.
Hyaluronic Acid keeps the skin moisturized, firm, elastic and free of wrinkles. Our plant-based HA Complex is derived from tara tree seeds and marine seaweed, as well as produced by biofermentation of non-GMO raw plant ingredients.
888-290-6238, www.szepelet.com