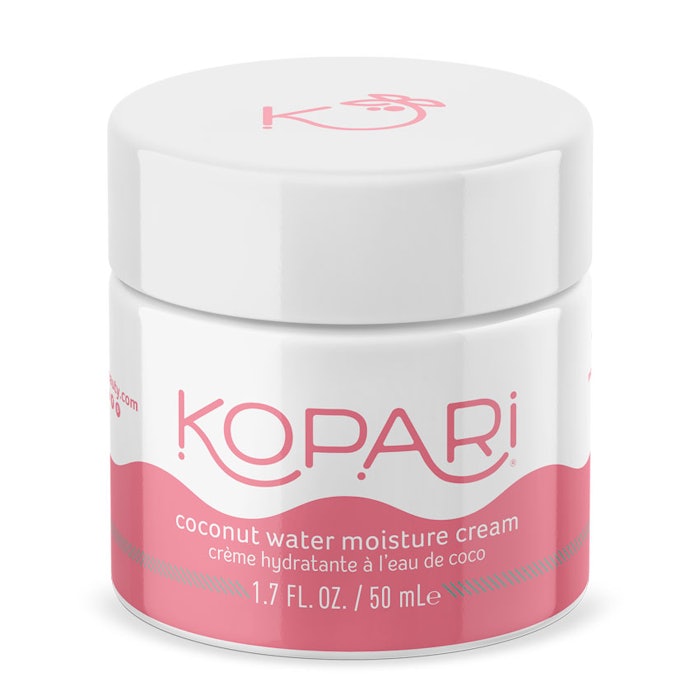 Kopari's Coconut Water Moisture Cream is made with antioxidant-rich coconut water, which delivers vitamins and minerals straight to the skin, and it's good to go for morning or nightly use. This cream is contains peptides, hyaluronic acid and aloe vera. 
Details & Benefits
This lightweight, coconut water-based facial moisturizer plumps skin and gives it a big sip of hydration.The peptide complex is quick-absorbing and leaves skin feeling bouncy, silky, and refreshed. 
The cream is formulated with coconut water instead of coconut oil to reap the coconut's natural hydration benefits, while still being non-comedogenic. 
Meant for day or night use, alone or under makeup, this hydrating Moisture Cream can hydrate skin all day long.
Key Ingredients
Peptides help the skin to stimulate collagen, which slows signs of stress on skin.
Hyaluronic Acid works to maintain the skin's protective barrier and prevent moisture loss.
Aloe Vera is packed with vitamins, minerals and amino acids to soothe and hydrate.
Organic Coconut Water is full of electrolytes, amino acids, vitamins, and minerals, this super water is key to hydrating and fine-tuning your skin's every day functions.