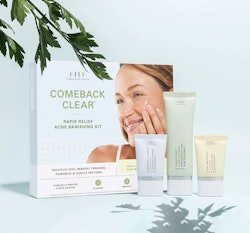 FarmHouse Fresh's Comeback Clear Rapid Relief Acne Banishing Kit includes three products that work together to clear active blemishes. The kit is gentle enough to use long-term, but powerful enough to transform skin to a smoother, calmer and more balanced state. 
Kit Includes
Crisp Start: this light, frothy salicylic acid cleanser is specially formulated with peptides and FHF-grown herbal parsley extract to soothe, clarify and deeply cleanse.
Day Breakthru: this clear, weightless salicylic acid serum is balanced with calming antioxidants to gently (yet effectively) clear up blemishes on the spot.
Midnight Clearing: this powerful benzoyl peroxide night lotion lightly moisturizes, reduces the look of redness and provides clearing – all in one step.
Watercress Hydration Cascade: complimentary trial size hyaluronic gelée oil-free moisturizer that quenches dry skin with time-release retinol and peptides.
888-773-9626, www.farmhousefreshgoods.com