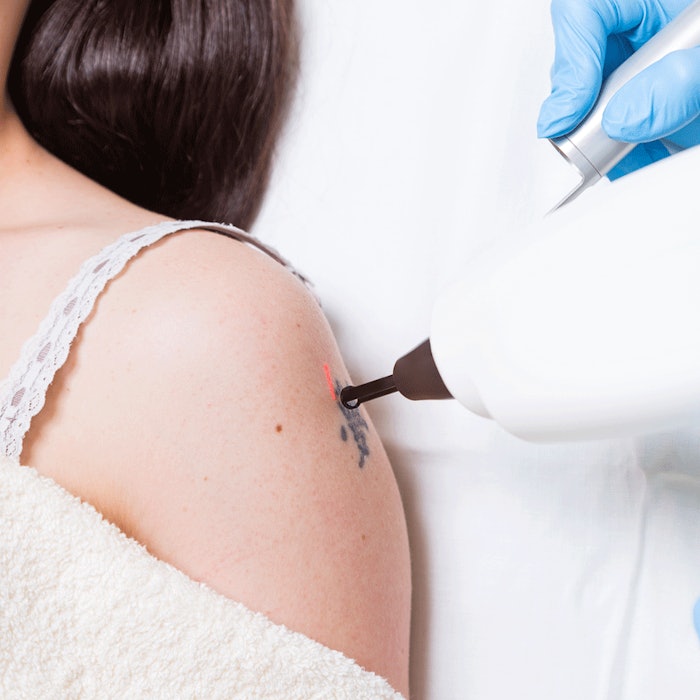 A recent study evaluated the safety and efficacy of multicolor tattoo removal with a Q-switched laser that generates picosecond-domain pulses. The study, which was published in Lasers in Surgery and Medicine, focused on treating 31 tattoos in 21 subjects with a picosecond-domain, neodymium-doped yttrium aluminium garnet (Nd: YAG) laser with a KTP frequency-doubing crystal.
With 31 tattoos of different colors to work with, researchers, Eric F. Bernstein, M.D., M.Sc.; Kevin T. Schomacker, Ph.D.; Lisa D. Basilavecchio, RN; Jessica M. Plugis; and Jayant D. Bhawalkar Ph.D., studied participants aged 19-55 with different Fitzpatrick skin types, which determine the parameters of the treatment.
Treatment Method
The laser was used on the study subjects in six to 10 week intervals. To protect the epidermis and minimize the risk of scarring in addition to preventing the danger of aerosolized blood and skin impacting the laser operator throughout the laser treatment, the treatments were all performed through a hydrogel dressing.
The study determined safety and effectiveness by blinded evaluation of digital images.
"The state-of-the-art for Q-switched lasers hasn't changed in decades until the recent development of commercial picosecond-domain lasers," said Bernstein. "In this study we first demonstrate the safety and effectiveness of treating tattoos with a novel 450 ps pulse-duration 1,064 nm/350 ps pulse-duration 532 nm laser."
Digital Image Evaluation
Photographs were taken before each treatment, six to 10 weeks following each treatment and 12 weeks following the final treatment session.
Rated on a 10-point scale, zero as no improvement and 10 as full clearance, three blinded physicians evaluating randomized digital photographs was 79 ± 0.9% (mean ± sem) after an average of six and a half treatments. 
Of the 31 tattoos completing treatment, six had evidence of mild hyper- or hypo-pigmentation by evaluation of the photographs.
Results showed the 350 picosecond, 532 nm and 450 picosecond 1,064 nm Nd:YAG laser is safe and effective for removing decorative tattoos.