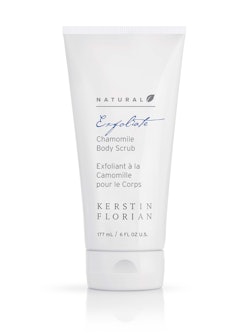 Kerstin Florian's Chamomile Body Scrub gently removes dry, dull cells to refine skin texture for a soft, smooth finish. The body scrub contains buffing grains, chamomile flower oil and organic aloe vera. 
Key Ingredients
Chamomile flower oil provides an aromatic soothing, calming effect for the senses and skin.
Organic aloe vera leaf juice contains powerful organic compounds that help heal and soothe the skin. This well-known natural skin soother instantly hydrates and helps counteract environmental stressors.
Jojoba esters are biodegradable and their smooth shape allows for a gentle exfoliation.
Granulated pumice is sourced from volcanic stone and provides a natural, gentle mechanical exfoliation.
949-595-4300,  www.kerstinflorian.com