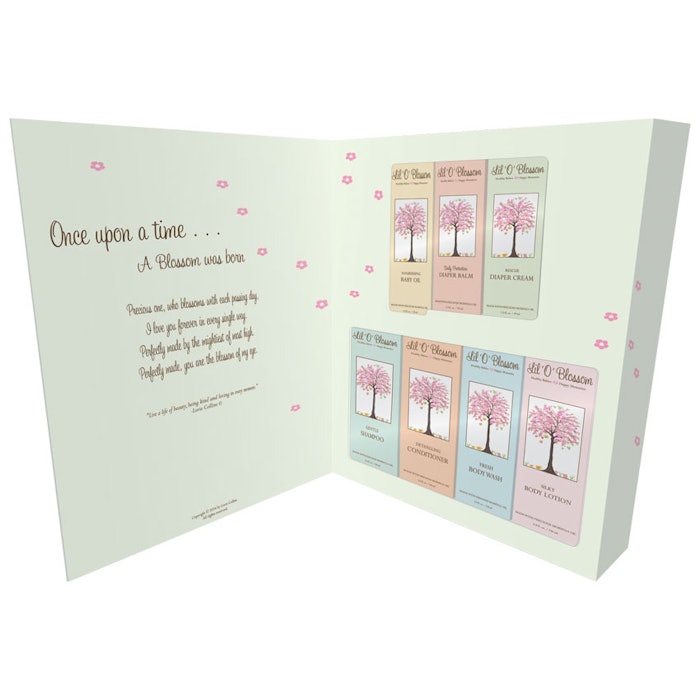 Shower Me Blossom gift set features seven luxury baby and bath products formulated to be gentle enough for babies' sensitive skin. The spa collection includes:
Gentle Shampoo: Formulated with moringa oil, rice extract and soy proteins, the shampoo cleanses and strengthens hair. Chamomile and honey soothe the scalp and prevent irritation.
Detangling Conditioner: The lightweight conditioner contains moringa and jojoba oils to strengthen and protect fragile hair, while mango fruit extract adds shine.
Fresh Body Wash: Formulated with moringa oil, kiwi fruit extract, apple amino acids and honey, the body wash cleanses while locking in essential moisture.
Silky Body Lotion: Light textured and fast absorbing, the lotion leaves the skin soft and hydrated with a blend of moringa oil, jojoba and aloe vera.
Nourishing Baby Oil: Containing antioxidants and omega-7, the oil features a high concentration of moringa oil to leave baby's skin soft and silk.
Daily Protection Diaper Balm: A combination of moringa oil, shea butter and natural beeswax protect and calm the skin while combatting diaper irritation.
Rescue Diaper Cream: Zinc oxide, moringa oil, beeswax and shea butter create a breathable, protective moisture barrier to help keep baby's skin dry and prevent inflammation.
844-692-5677, http://liloblossom.com