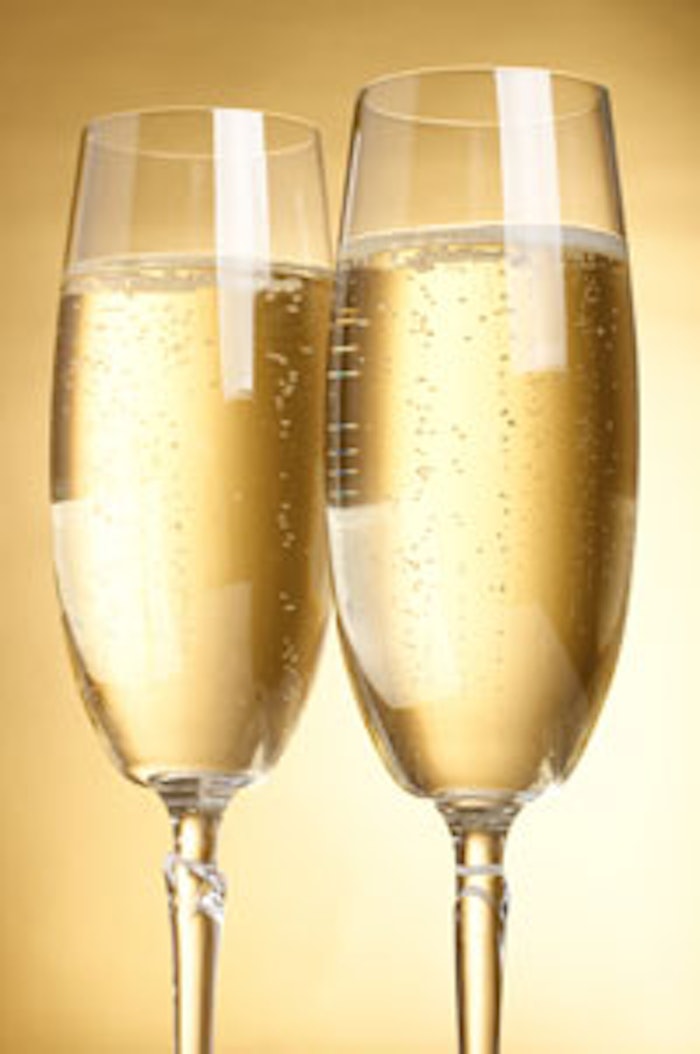 Following the Advanced Education Conference Program at Face & Body® Northern California 2014 in San Jose, California on Sunday, August 24, attendees are invited to attend a Networking Reception & Party put on by American Med Spa Association (AmSpa) from 6–8PM at the Willow Glen Room (301 South Market Street—2nd Floor of Hotel), San Jose Marriott, connected to the McEnery Convention Center.
Raise your glass!
Mingle with your colleagues, discuss what you've learned at the conference and enjoy hors d'oeuvres and drinks sponsored by True U and Dermaconcepts/Environ—so there is no cost to you to attend! This is a wonderful way to decompress, absorb and relax from the conference activities!
Terri Wojak will be signing copies of her book, Aesthetics Exposed. This is a must-have for any medical professional that offers skin care services. It is a complete and essential guide for professionals wanting to learn more about business, treatments and the skills required to master skin care in the medical setting and beyond.
Attendees will have a chance to win:
A copy of Aesthetics Exposed by Terri Wojak—$135 retail value; and
Environ Body Bag including Dermalac Lotion, Vitamin A-C&E Body Oil, sunscreen, and a sun hat with brochure and sun care booklet—$215 retail value.
For more information or to register for the AmSpa Networking Reception & Party.
Before the Party
From 10:15–11:45AM on Saturday, August 23, join AmSpa's Founder, Alex Thiersch, and associate general counsel, Renee Coover, as they present "So You Call Yourself a Medical Esthetician?" at the Business Summit during the Advanced Education Conference Program.
Unbeknownst to many skin care professionals, the term "medical esthetician" is often considered to be a violation of state law, and using it on your website or business card may lead to dire consequences. Although it has become commonplace and seems to show up everywhere, the term "medical esthetician" is, according to many state laws, misrepresentative, misleading and therefore, illegal. In this presentation, Thiersch and Coover will address the basics of medical esthetics law, advertising restrictions in the medical field and steps estheticians can take to protect themselves.
From 1:15–2:15PM on Saturday, August 23, join True U's Terri Wojak as she presents on "Acne Realities Exposed" during the Acne/Rosacea track during the Advanced Education Conference Program.
Acne is a frustrating condition for many clients, and they often seek out skin care professionals to get to the root of the problem. There is no single answer or miracle treatment for acne; it takes time and patience from the client—as well as the esthetician—to get the right system in place. Learn the vital questions to ask clients in order to uncover the underlying causes and triggers—such as hormone fluctuations and lifestyle choices—that are producing acne breakouts. Also, discover the truths and myths behind commonly used tools to treat acne, from over-the-counter products to medical treatments. Performing a thorough consultation and having in-depth knowledge of acne treatments will allow you to customize the perfect program to target each client's needs!
For more information or to register for the Face & Body Spa Conference & Expo in San Jose, CA from August 23–25, 2014 at the McEnery Convention Center presented by Skin Inc., go to: www.faceandbody.com/california. When registering for the conference, enter "THIERSCH" in the promo code field to receive $25 off the registration fee.