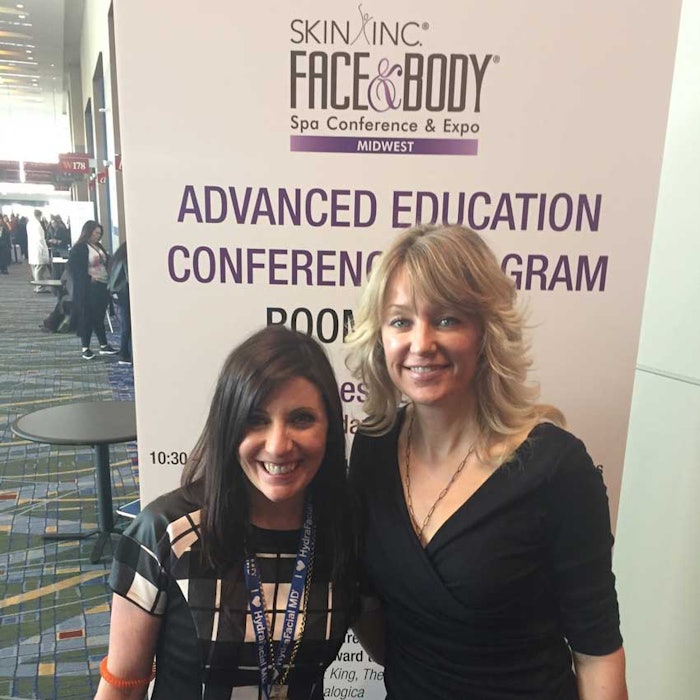 On Saturday, March 12, skin care professionals packed the Business Summit sessions during the Advanced Education Conference Program at Face & Body Midwest. Hungry for team-building tips, spa trends and brand-developing ideas, they were definitely well fed from the industry-leading educators.
Here's just a taste of what they experienced.
Lead Your Team to Customer Service Success
Happy clients are the result of happy employees. During an interactive discussion, Deedee Crossett, founder and owner of the San Francisco Institute of Esthetics and Cosmetology, demonstrated how spa managers can lead their team to create great customer service.
"Ask yourself: 'If you could be your own customer, would you want to meet you? Would you take advice from yourself? What does your face say? Does it look like they shouldn't approach you?'" asked Crossett.
Ask yourself: "If you could be your own customer, would you want to meet you?"
Building a Powerhouse Brand
Alexis Ufland, owner of Lexi Design, showed Face & Body attendees how to make their spa, services and products stand out from the crowd. She explained what is a brand, what are brand touch points, what consumers want from brands and the seven Cs to building a powerhouse brand.
"Big brands spend millions to connect with consumers. They want to hit heart strings to make them feel something," said Ufland. "Small business owners already have the 'secret sauce,' and we can use that for our brands."
The Latest Trends in Spa Menus
The best way to design a winning spa menu is to consider all the generations who go to spas. Fabienne Lindholm, founder of Beauty Ateliers, overviewed five generations of clients—from baby boomers to post millennials—and presented the purchasing drivers attributed to each generation.
"Trends are trends; however, because it's a trend doesn't mean it should be on your menu," said Lindholm. "Your spa menu should also be a reflection of who you are and who you want to attract."
Talking Trends: An Ear to the Ground With an Eye to the Future
Annet King, director of global education for the International Derma Institute (IDI) and Dermalogica, explained that for spa owners to stay relevant, profitable and successful, they must continuously adapt their business around the needs, wants and desires to the consumers.
"Your clients already live in a society where businesses come to them."
During her session, King discussed the shifts in the spa industry landscape, global product and retail developments to capitalize on and the skin ingredient, science and technology trends of the future.
"Your clients already live in a society where businesses come to them," said King. "You need to think differently, and go to where the people are."
How the Price War Will Be Won
Discounts and coupons might be good for customers, but they're not good for your business. Lauren Snow, director of membership for Associated Skin Care Professionals (ASCP), shared three strategies on how to grow a sustainable business without dropping prices.  
"On average, spas lose about $2,200 from discount deals," said Snow. "By using clients, contacts and customer service, you won't need to use discount deals."
 Disappointed you weren't part of this high-quality education? Well, make sure you attend Face & Body Northern California. You'll learn tips from leading industry professionals that you can immediately implement into your business. Visit www.FaceandBody.com for details.