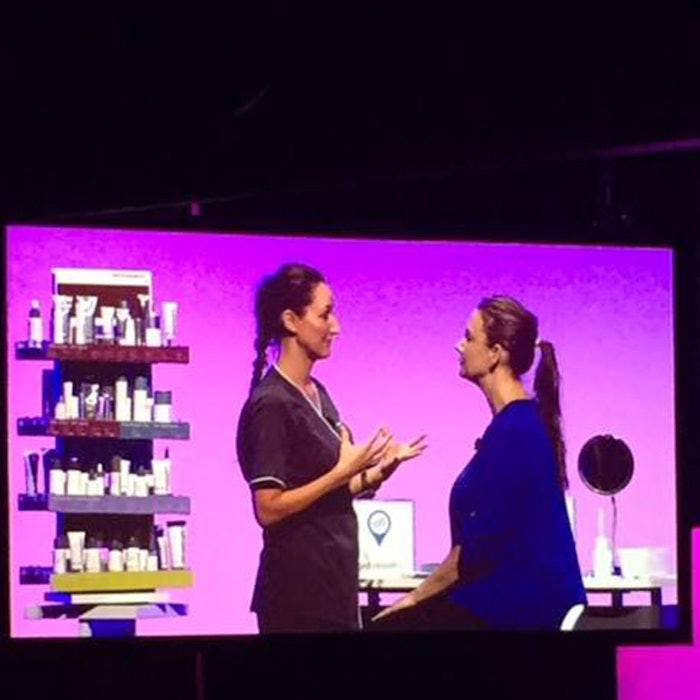 More than 2,500 business owners, managers, spa directors and skin therapists from over 60 countries worldwide attended Dermalogica's 10th Congress in Las Vegas on Aug. 9-11, 2015. This year's event set records for the company, as the biggest in its history.
Starting the congress with a welcome reception on the first evening was Dermalogica founders Jane and Raymond Wurwand, who greeted all their guests, a.k.a. "the tribe," as a connected group.
The following morning, J. Wurwand started the session with insight on the company's mission statement and her personal mission statement in dominating professional skin care and being the major disruptor of the industry. The company hopes to spread the importance of global impact in the industry, be on par with the future of skin care and increase the might of its "tribe." "Education is the foundation to changing the world," said Wurwand.
The discussion shifted to Dermalogica's partnership with Unilever, where Vasiliki Petrou, global senior vice president prestige at Unilever, stepped in. The two companies' goal is to impact the world together with foresight, eagerness and research and development (R&D). Petrou shares the passion Dermalogica has for "the tribe," responsibility, leadership building and Financial Independence Through Entrepreneurship (FITE).
Natalie Byrne, director of global impact at Dermalogica and FITE, discussed the philanthropic efforts of the company and its commitment to creating opportunities for women and girls worldwide. FITE has funded more than 50,000 loans across 68 countries. Byrne also spoke with four other industry leaders about their impact with FITE in countries such as Cambodia and India.
Throughout the two days of congress, the tribe heard from not only Dermalogica's industry experts, but also guest speakers, who were experts in their own industries. Some topics covered included business concepts, consumer trends, retail insights and more. For example, Diana L. Howard, Ph.D., vice president of R&D and global education for Dermalogica and The International Dermal Institute, introduced various new products and explained the role R&D plays in those products and the skin care industry.
Entrepreneur, author and international speaker Stuart Knight took a more motivational approach to his presentation. "The more fascinated you are in the people you do business with, the more successful you will become," said Knight. He challenged the group to speak to at least one stranger every day for the rest of their lives and to ask them the three things that makes them the happiest. Knight also stressed on asking the question, "why?"
Among the speakers, there were several examples of proper product application. Various professionals showed the audience the safety and reliability of visiting skin bars for face mapping or facials.
Additionally, "the tribe" was introduced to more than 10 new products, some of which are not yet available for sale. Each product was researched to improve various skin types and include a few of the following.
To fight anti-aging, the overnight retinol repair increases collagen production, enhances cell turnover and renewal, addresses uneven discoloration, improves firmness and more.
Research behind the charcoal rescue mask proved activated charcoal can act as a detoxifier and has healing minerals for rosacea, acne and aging.
Two ionActive massage techniques—both LED friendly—include EndoThermal gelloid, which has a cooling effect and helps with anti-oxidants and ExoThermal gelloid, which has a heating effect and helps with hydrating the skin.
Outside of congress sessions were pop-up shops with an assortment of products for purchase. There was also a group of professionals who were doing free face mapping for attendees to learn what products will benefit their skin types. In the same area, two large chalkboards were being filled top to bottom with colorful chalk with shout outs from different countries and companies.
J. Wurwand closed the congress sessions by explaining how nothing is random. Everything is meant to be for a reason and every attendee was at the congress for a reason. Together, "the tribe" is all connected as one and after a two-day session of learning, their purpose will then be to share what they learned. "It's not about us," said Wurwand. "The power of the tribe is to share and contribute to everyone, not ourselves."