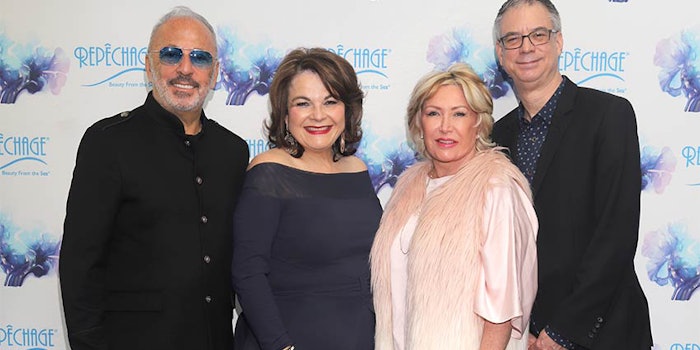 Held at the company's Secaucus, New Jersey headquarters, Repêchage's annual Power Lunch tackled everything from the rise of online shopping to the salon of the future. Here's what you need to know.
1. Scrub a Dub Dub, Give the Whole Body Some Love
Founder and CEO Lydia Sarfati kicked off event by unveiling Repêchage's new, streamlined logo, set to debut in 2019, and the discussing the company's latest launch, the FUSION Face and Body Sugar Scrub collection. Inspired by the second most purchased retail segment at salons and spas—body care—the range is geared towards use both in the salon and at home, making it an ideal add-on to retail sales. Sarfati encouraged salons and spas to turn lemons into lemonade when it comes to clients' increasing desire for fast services: create packages, such as pairing a scrub with a manicure or pedicure—and "don't be afraid to charge more," she said. "Do a better job; enhance the experience."
2. The Spa of the Future: Experience, Entertainment, Education
Leon Alexander, Ph.D., president of Eurisko Design, returned to the Repêchage stage with his presentation "A Window Into the Consumer Mind," outlining the ways in which the salon of the future will be "an alluring cocktail of touch and digital content." This includes mobile devices offering product details through an interactive interface, self-checkout, virtual personal stylists and offerings outside of the traditional spa services—think wine bars, coffee bars and other fixtures which help create an experience for the client. "You don't remember services, you don't remember retail purchases," said Alexander. "You remember experiences."
3. You Can't Compete with Amazon… and You Don't Have To
In "How to Succeed in a Competitive Market," Lois Christie, owner of Christie & Co. Salon and Spa, addressed the ways online shopping has altered the salon retail landscape—and how, though spas can not compete when it comes costs, they have a couple of secret weapons: personalization and expertise.
Take advantage of your face time by building personal relationships, following up with clients asking them how their service impacted their life, offer personal recommendations based on their needs and craft loyalty programs which reward their patronage. Allow your expertise to ensure customers that the increase in cost is justified by your knowledge, talent and the experience you offer. "She wants to buy an experience," said Christie. "Amazon can't give her that."
A crucial component any fight are the soldiers—in this case, the staff. Attract top talent via generous benefits packages, encouraging work-life balance through policies such as flexible scheduling and offering educational opportunities such as CIDESCO certification. Hire carefully and fire quickly, said Christie, emphasizing the importance of hiring happy, quick learners and noting: "if we know they're [only] going to be there three years, let's build to that."
Looking forward, increasing time poverty calls for fast services—such as sheet masks—and, as Sarfati had noted earlier, creating packages.
4. If You Are Not Already, Get Social
"It's not about keeping up with the competition; it's about keeping up with the consumers," said Gordon Miller, CEO of Hairbrained, during "Future Proofing in an Age of Disruption." Of all the disruptors, from Netflix to Apple, none has impacted the beauty industry quite like social media (think Instagram, YouTube and Facebook). It has altered every facet of the industry—whether it's offering clients choices they've never had before, helping events to go viral when influencers are on the bill, or changing the way professionals and consumers alike seek to educate themselves.
As such, offering services such as online booking and building a brand on social media platforms are imperative. Miller suggests taking cues from businesses such as Seamless and GrubHub, which revolutionized the restaurant industry by popularizing delivery, and offer product delivery; even though a retail purchase might be "an easy no" after the client has just dropped a pretty penny on a pricey service, it becomes much more enticing a few days or weeks later. "Sell it when they need it," he said.
Miller recommends thinking of social media as the ultimate marketing tool: find a business you admire in another city and adapt their strategy to your own business model. Post a photo every day (just one is enough), and make sure that when prospective clients look you up, they have a firm idea of who you are and what you can do. "Take a big step back and be critical of your own online presence."
5. "Do it Right, or Don't Do it at All"
The event wrapped up with a Q&A session, during which Miller asked Sarfati about everything from how she defines disruption to what inspires her.
On what disruption means to her: "Constantly [doing] things that are an opportunity."
On her fixation with education: "Do it well, do it right, or don't do it at all … if I know you've succeeded with what you've learned from me, I'm happy."
On being an immigrant: "I think it teaches you the ability to succeed."
On a company that inspires her: Emirates Air, which offers "impeccable" service from start to finish, from elegant lounges to personal mini bars. "These are the things that yes, it's hard work but it sets you apart."
On how to set your business apart: Do things to create "a certain level of ambiance." "These things are big today, they were big 30 years ago, and they'll be big years from now."