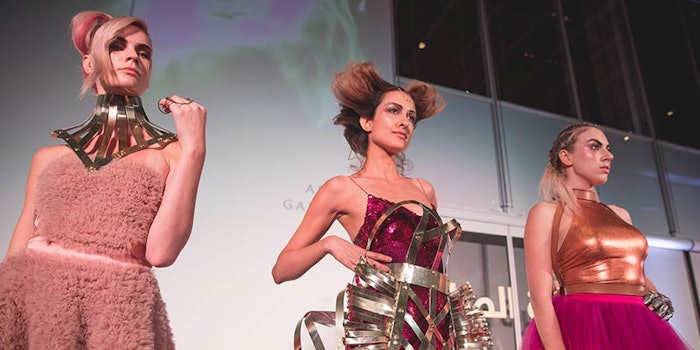 The 6th annual Beauty Changes Lives Experience was held at the Art Institute of Chicago.
The event unites the professional beauty industry through fundraising and celebration of the next generation of beauty professionals.
Experts from professional beauty brands served as mentors for "Nextgen" teams, interpreting the theme "Exposed." These included:
Arrojo—Who opened the event with a runway presentation.
CND—Torie Bastian mentored team members Gina Cella, John Nguyen and Trisha Lee for the theme "Limitless," which included looks in metallic gold, silver and purple with graphic touches.
Matrix—Jessica Warburton, Amanda Epstein and Katie Fortna, mentored by Danielle Keasling, presented the theme "I am Me," featuring vibrant hair colors.
Mizani—Jamal Edmonds and Nextgen's Al Alexander partnered for a presentation featuring vibrant colors and big, textured manes, inspired by early 90s Vogue magazine and television classics such as Living Single and In Living Color.
Pivot Point International—Jason Russell and Nextgen artists Dareece Darden, Fallyn Mireault, Adriana de la Parra, Megan Vargas and Liz Barajas presented "Exposed Deconstruction." The Pivot Point team were all awarded the Beauty Changes Lives Leo Passage Education Scholarship, which offered them the chance to present.
Redken 5th Avenue—With mentor Chris Baran, Nextgen's Megan Johnson "exposed" their vision to "learn better, earn better and live best" via choreography and avant garde, editorial hairstyles.
Tigi—Mentor Renee Valerie supported Nextgen's Anita Thammasine and Christina Magliocchett for their theme "Your Vibe, Our Vibe," which encouraged individual style with vibrant, colorful prints and bright, 80s-inspired hair.
Ulta Beauty Pro—The team of Nick Stenson, Ammon Carver, Sonya Dove, Sean Goadard, Carmoday Homan and Danielle Keasling from Ulta guided Rachel Bettis and Leo Valencia of Nextgen for a feminine yet futuristic presentation.
Wella— Galin Hristov mentored Krislynn Wiles and Lyuba Yermolova for a sleek presentation featuring all-black attire and mid-century bobs and pixie cuts.
Related: Beauty Changes Lives Foundation to Give Legacy Award