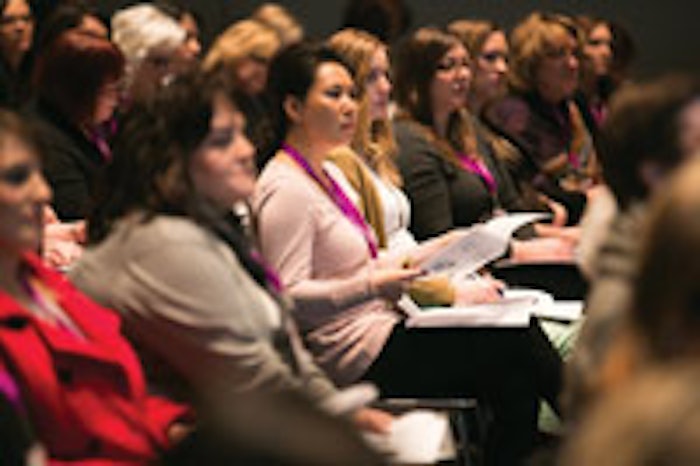 Have you ever had a million things to do and not been able to focus on getting even one of them done? Maybe you even made a list, but lacked the motivation to start it? Sometimes, when this happens to me, I need an inspiration break. It could involve taking 30 minutes to look through an industry magazine or website, or finding a colleague or mentor to talk to about what I do and remind me why I love my job. And sometimes this includes going to an industry event to renew that passion for the industry in order to spark the creativity in my daily work. You can do this, too! Find your sense of focus at Face & Body Midwest, March 22–24, 2014, at McCormick Place West in Chicago.
Advanced Education Conference Program
The weekend begins with the all-new Advanced Education Conference Program designed to incorporate multiple ways to treat various skin conditions with its new condition-based track format. The conference starts with an Opening Session featuring JoElle Lee, First Lady Michelle Obama's personal esthetician, designed to inspire and educate you and, along the way, meet other industry professionals also seeking inspiration and connections. Sitting next to you could be a future colleague, mentor or friend. Either way, you are sure to find commonality with the other attendees at the Opening Session. After a few classes (during which you've met your new partner in crime), delve into the Expo Hall during the lunch break. More than 100 companies representing over 150 booths await for you explore new product and service solutions that will help you find your sense of focus. After the mid-day break, the Advanced Education Conference Program will continue, featuring crucial topics explained by dynamic industry leaders, as well as an inspiring Closing Session from Anne Martin of Anne Martin Skin Care that emphasizes the importance of the well-being of yourself, as well as your clients.
Expo Hall and Supplier Classes
Come back on Sunday, March 23, to visit the Expo Hall again and to wander around America's Beauty Show® (ABS), which is included in your Expo Hall admission to Face & Body Midwest, for an inspiration break. ABS will feature trends in the professional salon industry so that you can incorporate aspects from the entire industry into your business and treatments. Be inspired by the latest colors, styles and information to become a professional who can speak to all of the latest trends throughout the beauty industry. Sunday will also offer more than 25 Supplier Classes free to all attendees. These classes allow you to explore your favorite supplier's trends, ingredients and products in an educational setting away from the trade show floor.
Finalize your decisions
The final day of Face & Body on Monday, March 24 gives you the time to come back, and visit with the exhibitors and suppliers you did not have time to meet on Sunday. Monday allows more individualized time without the crowds of Sunday to sit in on more Supplier Classes and talk with your current (or future) representatives from a variety of companies. Take the opportunity on Monday to really finalize your decisions. At the end of Monday, my hope is that you will have found your focus and be ready to go back to the treatment room clear-headed, refreshed and renewed.

Mary Richter is the show manager for Allured Business Media, including Face & Body® Northern California and Midwest. She is a certified meeting professional (CMP) and has been a member of International Association of Exhibitions and Events since 2006.