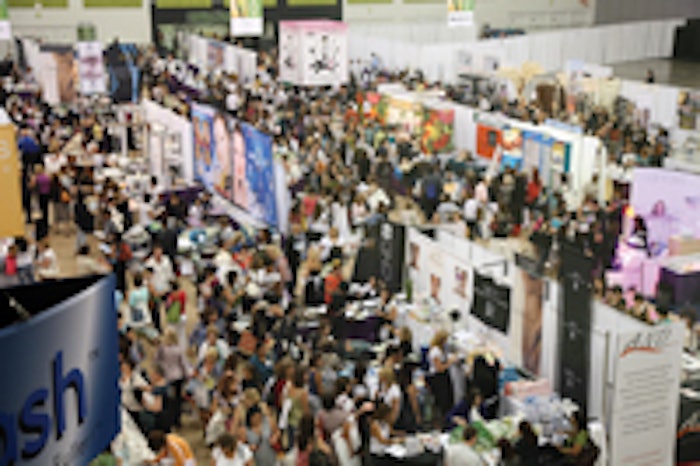 Show photography by Eric Hoffman for Convention Photo by Joe Orlando, Inc.
With an exciting new city to call home, the Face & Body® 2009 Spa & Healthy Aging Conference and Expo hit San Jose, California's, San Jose McEnery Convention Center from Saturday, July 11, to Monday, July 13, offering attendees an array of business-improving opportunities to enjoy.
Savvy spa owners crowded the classrooms during the product-neutral Advanced Education Conference Program and combed the expo floor for new products and industry information. They also checked out the city and its spa industry, and learned a little bit more about each other by taking advantage of the show's new options: a spa tour, a networking luncheon and a tour of two local wineries.
Brimming with education sessions on timely topics, featuring a wide selection of companies selling products and offering information about different technologies, and providing the chance to speak with fellow industry professionals about their business experiences, this year's conference and expo was a must-attend event for spa owners working to maintain and expand their enterprises. And with some of the industry's biggest names in attendance teaching classes and sharing their knowledge, this year's Face & Body was the perfect place to go to move a spa business forward.
Tours, talks and tastings
Saturday, the first day of Face & Body 2009, began with the debut of the à la carte options that could be chosen individually or as a package. They provided attendees with the opportunity to get to know each other outside of the business arena while also offering the chance to obtain unique insights into the spa industry.
The sold-out spa tour kicked things off, taking attendees to three different spas around San Jose. The first, Ayoma LifeSpa in the Hotel Valencia Santana Row, encouraged attendees to explore the facility while also learning more about the ayurvedic and skin care services the spa provides. Next up, tour-goers watched demonstrations of teeth-whitening and a cellulite-reduction treatment at Beautiful By Design day spa, and the tour then concluded at Tova Day Spa in The Fairmont San Jose hotel, where attendees got a behind-the-scenes look at the variety of treatments and services offered at the destination spa-like day spa. Throughout the tour, attendees also asked questions and interacted with the owners of the tour's spas, picking up helpful advice and the abundance of knowledge the owners have spent years cultivating.
Attendees next gathered at The Sainte Claire hotel's Courtyard Atrium for the networking luncheon sponsored by the San Jose-based Jan Marini Skin Research, Inc. Chatting with tablemates between bites, luncheon attendees discussed the issues they were experiencing with their respective spa businesses, sharing ideas, solutions, product recommendations and more. They also listened to a short presentation from Jan Marini's vice president of marketing communications Mark Marinovich as he described the company's products and marketing efforts. Spa owners, estheticians and industry professionals got a jump on some of the conference and expo's hottest topics simply by conversing with the new friends they met during this networking event.
Following the luncheon, the product-neutral Advanced Education Conference Program began, bringing attendees to the convention center and filling class tracks that included Business-building, Esthetic Science, Trends and Wellness/Sustainability. Industry leaders, including Peter T. Pugliese, MD, of Circadia by Dr. Pugliese and Christine Heathman of GlyMed Plus/Advanced Aesthetics, Inc., captivated audiences with information on topics ranging from scientific research about ingredient trends and cosmetic chemistry to attracting younger clients and becoming a better leader. Attendees were able to take notes and accrue information they could implement immediately when they got back to their spas.
Saturday was topped off by the final à la carte option of Face & Body 2009—a tour of two local wineries. The tour was sponsored by Éminence Organic Skin Care, and attendees picked up gift bags provided by the company before boarding shuttles that took them to two local wineries in the nearby Santa Cruz Mountains. The first, Silver Mountain Vineyards, included tastings of local offerings and a chance to mingle with fellow attendees, and Loma Prieta Winery, the second stop, offered samplings of its wine while attendees watched a beautiful sunset.
Industry insight
The second day of Face & Body 2009 dawned offering a myriad of learning and shopping opportunities for attendees, with the continuation of the Advanced Education Conference Program, the start of the Manufacturer Classes and the opening of the expo floor.
Education started early, with eager attendees learning information about spa business, trends, ingredients, sustainability, skin care science and more as the conference shifted into gear again, with speakers such as Rebecca James Gadberry of YG Labōratories and Mark Lees of Mark Lees Skin Care, Inc. sharing their experiences and knowledge about topics spa industry professionals crave. Providing demonstrations and answering questions during the sessions, these industry experts helped spa owners with their current business issues and technique queries, offering hands-on, personal involvement. These business solutions also helped spa owners get immediate feedback about situations they were experiencing, helping them make the most of their valuable time spent at Face & Body 2009.
Patricia Kaspian, partner at The Great Skin Company in Los Osos, California, said, "I've been in the business for a long time, and I like to come here for the broad selection of classes I can take part in and products I can view. I attended a class about branding your spa online, which I thought was great, because that's really where the business is headed, and I also had a chance to look at several different lines and ask questions at the expo."
People used the morning hours to pick up some product-specific knowledge in the Manufacturer Classes, which also extended into the afternoon. Focusing on particular skin issues, treatment options and retail techniques, the Manufacturer Classes allowed attendees an up-close experience with multiple product lines and service types, as well as the chance to communicate directly with company educators and team members.
Attendees also took an interactive approach with the multitude of spa suppliers exhibiting on the expo floor, which opened later Sunday morning. With a throng of spa professionals flooding the aisles, suppliers demonstrated innovative new techniques, debuted exciting new offerings, and provided interested attendees with volumes of knowledge about their products and treatments. The expo floor abounded with new business, procedures, and retailing and marketing ideas, and attendees took advantage of having the one-on-one attention of some of the industry's top suppliers, discussing the wants and needs of their businesses, and often inspiring new development ideas in the suppliers themselves.
In addition to all the industry information and insight attendees received on the expo floor, they also had a chance to win some cold, hard cash. Exhibitor RevitaLash kept the anticipation and excitement high throughout the afternoon by periodically announcing winners of its $1,000 cash giveaways. The day's four lucky winners, who entered the drawings by dropping their names in a drum at the company's booth, were able to take the cash home right away, allowing them to immediately invest it in their businesses and other ventures.
Shop 'til you drop
Face & Body 2009's final day broke on Monday, finding suppliers and attendees ready to finalize their business on the expo floor, and gather up lasting business ideas and industry knowledge.
Additionally, Monday also included the National Coalition of Estheticians, Manufacturers/Distributors & Associations (NCEA) National Certification Prep Class partner conference, which provided licensed estheticians, cosmetologists, medical assistants and other industry professionals with the chance to learn more about becoming nationally certified through the NCEA's Certification Program. The all-day class featured a review of the scientific principles covered in the National Certification Exam, and the opportunity for attendees to see if they met the candidate requirements for certification, as well as the chance to verify any attendee records.
Picking up final bits of information, crowds attended the closing day's Manufacturer Classes, taking notes and viewing demonstrations on waxing, ingredients, stress relief, anti-aging skin solutions and more. Others also used the opportunity to follow up on some much-needed networking. While attendees and friends Marnie Smythe, Kathy Gallagher and Sylvia Forstreuter perused the expo floor for the exhibitors' new offerings and watched demonstrations on new equipment, they also used Face & Body as a chance to catch up with each other. "It's a good excuse to get together to find out what's going on with everyone," Smythe said.
In the expo hall, RevitaLash once again awarded four lucky winners with $1,000 each. Looking for last-minute deals, investment options and industry knowledge, attendees continued to scour the floor, identifying the suppliers offering the products, techniques and support that fit their spas' needs. Sampling different selections and getting involved first-hand with on-floor equipment demonstrations, attendees left armed with products, contacts, innovative ideas and more, setting off for their respective spas ready to implement and test the information they had received during Face & Body 2009.
Smart spa professionals looking to get the most out of this year's show also used the last hours of Face & Body 2009 to soldify the connections they had made that were essential to keeping their businesses vital and thriving, and made plans to meet up again in San Jose for Face & Body 2010 Northern California.
Building up
Face & Body 2009 Spa & Healthy Aging Conference and Expo included incredible offerings for spa owners, and to get these kinds of benefits yourself, join us next year from July 17–19 at the San Jose McEnery Convention Center in San Jose, California, for Face & Body 2010 Spa & Healthy Aging Conference and Expo Northern California.