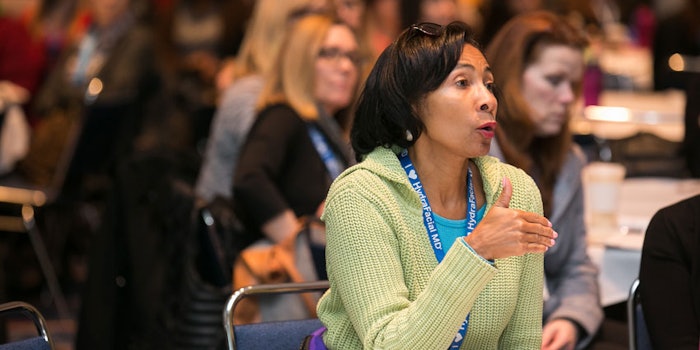 On Oct. 15, 2016, the first-ever Face & Body Southeast will kick off in Atlanta. The three-day event is sure to bring spa owners and estheticians in the southeast region the latest in skin care research, innovative products and effective treatments. In addition, it serves as a valuable networking gathering, where the spa industry can get together and share success stories. Below is a list of 10 things not to miss at the inaugural Face & Body Southeast, but there is so much more.
See Face & Body Southeast educators and the conference director on Atlanta's Plugged In.
1. Keynote, The Intention to Serve: The Most Valuable Beauty Secret Ever Divulged $
Alison O'Neil, Beauty Becomes You, Oct. 15, 9:00-10:00
This keynote address will explore what REALLY counts toward your success as a professional and what it means to have "a servants heart." It's all about how you literally and figuratively touch others.
2. Passport to Prizes
Passports are printed on the back of attendee badges. Simply visit the booths of participating sponsors (Cosmedix, LightStim, Osmosis, Skin Inc., TJ's Cosmetics Distribution and Viktoria DeAnn) and have your passport stamped. Then, turn your passport in to the Face & Body booth (#128). Names will be randomly selected to win First ($500), Second ($250) and Third Prize ($100), and winners will be announced at 3:30 p.m. on Oct. 17, 2016.
3. A Global Perspective on Ethnicity and Pigmentation $
Erin Madigan-Fleck, Association of Holistic Skin Care Practitioners; Naturophoria, Oct. 15, 11:45–12:45pm
This class will explore the primary aspects of melanogenesis, pigment histology and the correlation of inflammation that may encourage the development of pigment as well as acute and chronic skin sensitivities.
4. Relaxation Area
Relax, unwind and be pampered in the Relaxation Area, with complimentary facial services, water-less manicures and massage services  provided by the students of International School of Skin, Nailcare & Massage Therapy. This gives the students a chance to meet and impress future prospective employers and also allows spa owners to get to know a school where they could be recruiting talent.
5. Natural Cosmeceuticals: Myths & Realities $
Robert Manzo, Skinprint, Oct.15 2:00–3:00pm
This class will examine the myths and realities of what to expect and what not to expect when using natural ingredients in efficacious skin care products.
6. How Different Acid Solutions Affect the Skin
Speaker: Shannon Esau, Rhonda Allison, Oct. 16, 9:00–10:30am
Learn the fundamentals of each acid and how to achieve maximum results. This class includes demonstration of Rhonda Allison's 2016 Signature Treatment "Skin of Color Peel."
7. Esthetician Connection Meet & Mingle*
Are you part of the popular esthetic-only Facebook group Esthetician Connection (EC)? If so, and if you attend the event's Advanced Education Conference, you are invited to the EC's first Meet & Mingle at the Renaissance Atlanta Waverly Hotel Lobby from 5:30-7:30 PM for cocktails, appetizers, door prizes and the opportunity to network. *Invitations are limited to Esthetician Connection members and Advanced Education Conference attendees.
8. Plan Spa Events that Increase Sales & Fun $
Alexis Ufland, Lexi Design Oct.15, 3:15–4:15pm
From client appreciation parties to sampling programs, off-site events to charity programs, this class will teach attendees how to attract new, reclaim past and upsell existing clients through strategic partnerships, promotional events and spa parties.
9. Cosmedical Esthetics: Combining Microneedling, Dermaplaning and Peels 
Speaker: Lyn Ross, Institut' DERMed Clinical Skin, Oct. 17 1:30-3
This class covers must have skills to meet the need of today's demanding skin rejuvenation client. Don't let misinformation about administering advanced protocols keep you from helping your clients experience complexion perfection.
10. Laser Hair Removal Recent Advancements: Faster, Painless, & More Effective
Harvey Hillyer and Allison Hillyer, Dermani Medspa, Oct. 16 3:30–5:00pm
This presentation will review how laser hair removal works, a history of lasers used, and current research and technology in the delivery of laser hair removal.