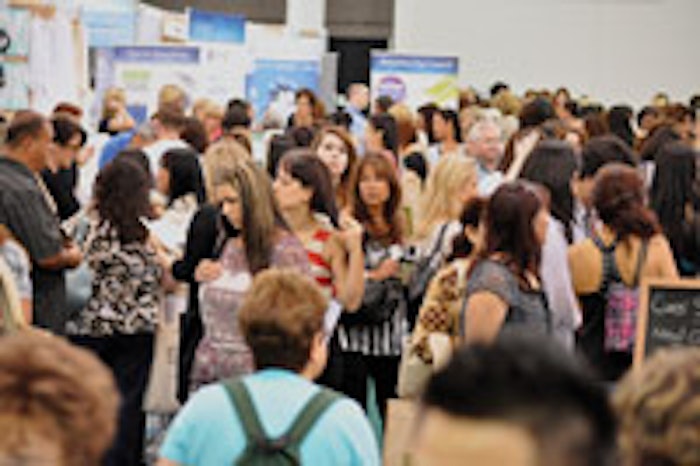 The professional skin care industry relies on progress for success, and Face and Body Northern California—taking place in San Jose, California, October 6–8, 2012, at the newly renovated McEnery Convention Center—is the most sought-after venue for progressive knowledge resulting in personal and professional power solutions.
Suzanne E. Huberth, an attendee who is an esthetician and the owner of The Cottage Skincare & Waxing Studio in Thousand Oaks, California, was able to gain knowledge, professional peer advice and expert connections by attending last year's Face & Body Northern California ... and she plans to take advantage of all the event has to offer in 2012, as well. "I attend Face and Body to learn about new products and participate in the plethora of higher-learning options available. The opportunity to connect personally and professionally with representatives of the product lines I use in my spa gives me insight to better my business," explains Huberth. "Manufacturers at Face and Body realize the importance of being face-to-face with skin care professionals to ensure successful solutions."
New products, treatments and technologies
One of Huberth's favorite parts of the event is that it showcases the new products, treatments and technologies available to the professional skin care industry. "It's important that skin care professionals further their education, and this show doesn't disappoint. I love finding out about new product advancements and specialized treatments that I can tailor to my clients and help expand my business," says Huberth, who recently increased her facility's bottom line with a treatment that she discovered at Face & Body Northern California and incorporated into her spa.
"Recently, I added an airbrush tanning system, and worked with a company that had a brand position that I believed was important and fit into my business model," she says. "My clients love the service; they love the paraben-free, organic ingredients, and the lack of stickiness and smell associated with many spray tan systems."
Another business-building take-home strategy that Huberth learned at Face & Body Northern California was an additional way of encouraging re-booking, resulting in a high client return rate. "I pride myself on exemplary customer service, and I learned that sometimes a simple added service or change of policy can make a huge difference," she shares.
See things differently
"Education is a huge advantage at Face & Body Northern California. I always sit in on manufacturers' classes and learn how to advance my techniques, as well as how to see things differently. I especially loved the Men's Intimate Waxing class, and learned many new techniques from Andy Rouillard. (Editor's note: Don't miss the encore of this class, offered during the Advanced Education Conference Program on October 6— www.FaceandBody.com/california/register.) With the continual growth in waxing treatments for men, I was able to take this class and incorporate it into my business with a tremendous return," says Huberth. "I think men are finally beginning to relax when visiting spas, and are starting to realize that spa treatments aren't just for women any longer."
Get inspired!
So, how can you make the most of your attendance at Face & Body Northern California? Start by attacking the event with an open mind. Consider what you can do differently for yourself, your business and your clients. Get inspired! "I highly suggest you create an expo hall and education game plan by reading through the Face & Body show program," she recommends.
Face & Body Northern California provides a venue for skin care professionals to network with each other, and share their successes and failures, as well as their tips for overcoming challenges and obstacles. "I love spending time with other professionals in my field. It's exciting to reconnect and share how the past year has evolved," she says.
According to Huberth: "I think Face & Body offers growth opportunities for new estheticians and seasoned professionals alike. The education is beyond excellent and, if you go with an open mind, you will find many opportunities for taking your business to the next level." Register today at www.FaceandBody.com/california/register!