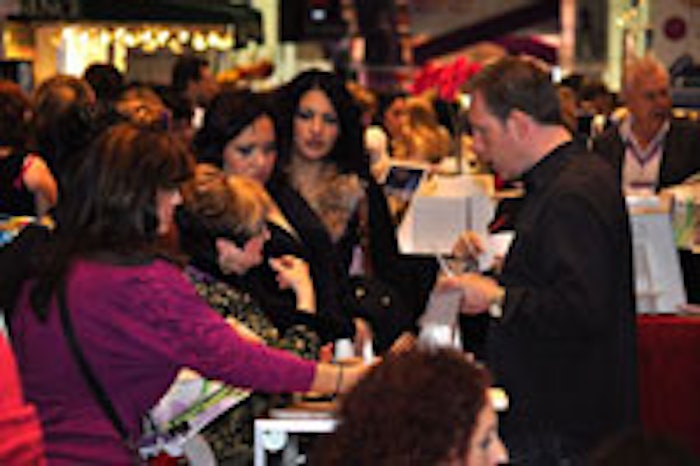 Editor's note: Registration for Face & Body Midwest 2013 is now open! Register today to experience another amazing conference and expo!
Face & Body® Midwest was held March 3–5, 2012, at McCormick Place West. More than 3,200 skin care professionals, including facility owners and managers, converged during the three-day event, a 73% increase from the previous year. Face & Body Midwest was co-located with America's Beauty Show® (ABS), and all ABS attendees had cross-over privileges, which added an additional 3,500 attendees, totaling more than 6,700. According to medical esthetician, Kristen Crees, from The Spa at NorthPointe in St. Joseph, MO, "I think Face & Body Midwest is a great opportunity for education. You meet a lot of great industry professionals, and there's a lot to take in. It's a great experience."
The three-day exhibit hall was filled with 87 companies who represented skin care, makeup, equipment, anti-aging, aromatherapy, business tools, hair removal and other suppliers offering the latest trends and techniques. It was a veritable experience for skin care professionals to shop, compare and get solutions to their challenges. According to Sandra Donovan, owner of Donovan's Serenity & Wellness Spa in Alpena, MI, "We've found Face & Body Midwest to be really helpful. We were looking for a couple of specific items this year, especially software, and we're always looking for new ideas to take back home with us. Actually, for software ... an option here at the show is one we hadn't explored too well until now, so we were excited to get a chance to do that."
Skin Inc. magazine sponsored the Advanced Education Conference Program, which kicked off with an opening panel on legislative concerns for skin care professionals. "The panel was very educational. There's always something from Face & Body Midwest that I can bring back to the spa," says Lynda Pappas, owner of Skin Deep Facials in Campton Hills, IL.
Following this, there were four tracks that featured business solutions, medical esthetics, skin science and treatment techniques. Industry professionals learned about the latest trends and techniques, and earned continuing education units, the hallmark of the conference. "The classes were very, very informative. Deedee Crossett really gave a firm idea about what to do for your business and how to develop it ... people wither away from that. She was very strong in how to be that person who's running a business. I was very impressed," says Karen Sattler, sales manager for New You Body Wax and Wellness Center in Utica, MI.
Out of the Advanced Education Conference Program came a list of hot industry trends and topics that are affecting the way you and your colleagues are doing business. Following is the list of top 10 hot industry topics that had people buzzing, reflecting the state of the skin care industry today. (Also, don't miss the most important takeaways from each Advanced Education Conference Program class, new professional skin care products from exhibitors at the show and a lively photo gallery showcasing all the show had to offer.)
1. Social media and technology—The role they play in your business. Key strategies to getting your skin care facility started in social media include the following:
Create a strategy sheet that identifies the social network and ask: Who will be the voice of your business and what is the tone? What are you going to talk about? How will you measure success?
How will your spa handle the time commitment? Take baby steps; spend 15 minutes each day, at least in the beginning. Ideally, someone on-site should handle social media activities.
2. Providing makeup and brows as an add-on service. What a great way to increase revenue! For example, if you offer four makeup lessons/applications per week at $55 each, that will result in $11,440+ per year in additional income. A similar formula can be created for brow-shaping services.
3. Defining your spa culture. Branding your business and creating a strong company culture allows you to achieve growth in your business. You naturally will gravitate toward what you focus on—what is your ultimate goal and what are your expectations? Use words that fit who you are.
4. What USDA organic means to you and your clients. Following are a few factors that you should keep on the forefront.
Pay attention to companies advertising the USDA Organic seal.
It does not necessarily mean that all their products are USDA Certified Organic.
In some cases, only a few select products are truly certified organic.
Observe what is offered.
Beware of products that contain a high percentage of water base, fillers and preservatives. Water is the perfect medium for mold growth.
Beware of manufacturers claiming "natural" preservatives, such as honey, lemon, potassium sorbate or sodium benzonate. Understand your ingredient list and recognize any misconceptions or side effects.
5. Understanding stem cells. Recently, research into using stem cells— both human and plant-based—has increased. It is important to understand why this category of ingredients is compelling to the skin care industry.
6. How to use C-corporations as a business advantage. According to Advanced Education Conference Program presenter Larry Oxenham of the American Society for Asset Protection, "If you are in a federal tax bracket higher than 15%, you could reduce your taxes by setting up a Nevada C corporation and having up to $50,000 of your income flow to this corporation, which has no state income tax and has a federal tax rate of 15% on the first $50,000 of taxable income. Your corporation can retain these earning so you are not double taxed. This is one strategy you can use to spread income. If you had a personal marginal federal income tax rate of 28% and a state income tax rate of 7%, you would pay $17,500 in federal and state income tax on that $50,000. If this $50,000 flowed to a Nevada C corporation instead, you would only pay the federal corporate tax rate of 15% or $7,500, saving you $10,000 in taxes."
7. Educating the client. Tracy Drumm of IF Marketing offers the following formulas for success.
WIFM—What's in it for me?
TOIB—Teaser, offer, immediacy, brand
SIMPLE—Staff education, image, medical credentials, patient education, loyalty and retention, external
8. Being active in industry regulation. To be successful as a skin care professional in today's industry, it is necessary to become more aware of the regulatory issues that affect how you provide services. Do not forget that regulation of the profession is provided by state regulatory boards, and that, as science and technologies evolve, so must you.
9. Offering results-oriented and whole body wellness-based products and services. You know that the spa is no longer for pampering—it's an extension of your clients' health and well-being. Team your treatments with effective at-home products to give your clients the lifestyle they deserve.
10. Marketing male intimate waxing treatments. It's important to reach the male client directly, so one recommendation is to have frequently asked questions on a website section that is directly designed and focused just for men. You need to make them feel welcome and comfortable before they ever even walk through your door.
If you missed all of the action at Face & Body Midwest this year, don't worry ... Face & Body Northern California is coming up soon! Log on to www.FaceandBody.com/california to learn about all the show has to offer, and don't miss next year's Face & Body Midwest, March 9–11, 2013, at McCormick Place West in Chicago.