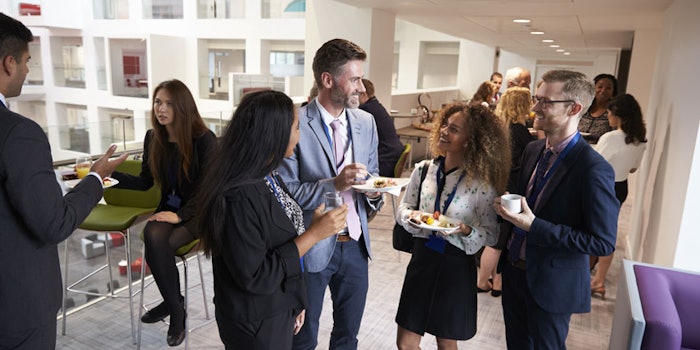 Face & Body® Northern California 2011 in San Jose, California, brought industry professionals together to continue their education, network and learn about new products.
Education and networking
Saturday, August 27, was dedicated to education. This year's Advanced Education Conference Program included four tracks: Business Solutions, Skin Science, Trends and Wellness. Attendees learned about a variety of topics from some of the masters of the industry, including everything from marketing to social media to inflammation of the skin to becoming organic-savvy. To view additional images from the show, be sure to log on to www.SkinInc.com/current.
Many sessions, including "Risky Business: Take Simple Precautions to Keep Your Business Safe" presented by Jesse Cormier of Associated Skin Care Professionals (ASCP), inspired attendees to take immediate action when they returned to their facility. "This was fantastic information for professionals as well as spa managers such as myself to help employees know what to do to protect themselves," said Jennifer LaCroix of Spaaah Shop & Day Spa in Durango, Colorado. "I will address all of these issues with our staff, including increasing awareness of precautions and intake forms. Great session!"
All conference attendees were invited to a Networking Lunch, which featured an interactive conversation with Deedee Crossett, president and dean of the San Francisco Institute of Esthetics and Cosmetology and current president of the California Board of Barbering and Cosmetology, who discussed industry compliance, state board requirements and the top 10 industry violations.
The day came to a satisfying end for a group of attendees who spent an evening in wine country for an intimate tour and tasting at Vine Hill Winery, located in the beautiful Santa Cruz Mountains. The winery is known for its award-winning pinot noir, and both supports and uses sustainable vineyard and winery practices. The tour was sponsored by Éminence Organic Skin Care.
Product knowledge
The following Sunday and Monday, industry suppliers discussed specific products and techniques, in addition to conducting hands-on demonstrations and lectures in more than 40 Supplier Classes. Attendees were able to learn from the experts themselves and gain valuable face-to-face time with their favorite suppliers in an informative and interactive setting. In addition, the expo floor was filled with attendees learning about new products and procedures, talking with industry experts and networking with peers. "I am very excited to come back next year," said Angela Kim of JCPenney Salon in Newark, California. "This year was my second time attending, and it was better than my 2010 experience. After I made my purchases and showed them to my colleagues, they want me to take them with me next year. I am very excited."
Medical esthetics
The Medical Esthetics Summit was featured again this year, in addition to a Medical Esthetics Pavilion, for attendees who were interested in learning more about this specialized field, or who currently work in it. Produced by Skin Inc. magazine and True University Esthetics, the summit was sponsored by Circadia by Dr. Pugliese. Attendees were able to network with their like-minded peers and hear a panel discussion about physicians working with estheticians, client retention, stem cell ingredients and peptides.
"I loved all of the speakers and topics at this year's Medical Esthetics Summit," said Sally Lewis of Specialty Care & Surgery Center in Kelseyville, California. "I am fired up and ready to use all of the information in my career. My goal for attending was to get a better understanding of my role in the medical office, and I definitely learned more ways I can be utilized in the medical field."
2012
Education, networking and product knowledge—it's what this industry is all about, and Face & Body Northern California delivered. Mark your calendar to share your expertise with industry peers at Face & Body Midwest, March 3–5, 2012, at McCormick Place West in Chicago, and at Face & Body Northern California, August 25–27, 2012, at the San Jose McEnery Convention Center in San Jose, California. If you would like to be considered for presenting a session at one of these shows, or have a specific topic you'd like to see addressed, I'd love to hear from you.