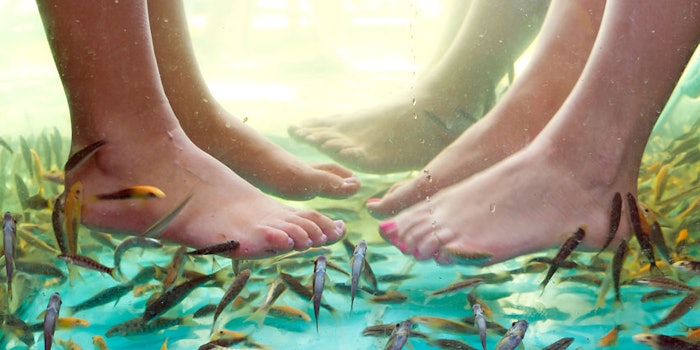 Recent media coverage of a fish pedicure being performed on reality TV star Kim Kardashian by a salon in Greece reports on a service that as described, is contrary to all standards and beliefs of the International Nail Technicians Association (INTA) and its well-documented Pedicure Equipment Cleaning & Disinfecting Procedures.
The service mentioned in news reports requires clients to place their feet into a tub containing small carp whose sole purpose is to ingest the calloused areas of clients' feet. The International Nail Technicians Association opposes any such technique that could cause potential harm to the consumer as well as the long-term viability of the professional nail industry.
INTA reminds all nail technicians that improper cleaning of pedicure equipment may lead to health safety concerns for salon clients, intense regulatory investigation and a severe threat to a salon business. As described, this service does not adhere to any scientific or regulatory data regarding safety and sanitation in the salon.
INTA strongly recommends that any nail professionals questioned by clients about this technique should caution consumers to inquire about proper cleaning and disinfecting of the fish tank for their own safety. Disinfection of pedicure equipment is required between each pedicure client, among other procedures developed and adopted by INTA.
The International Nail Technicians Association offers "INTA Pedicure Equipment Cleaning & Disinfecting Procedures" which is available online at www.AmericasBeautyShow.com/INTA.
The materials include proper procedures for cleaning whirlpool pedicure footbaths or self-contained foot basins, sinks and pedicure bowls. A description of the appropriate disinfectants for proper cleaning is also included. INTA stresses the importance of regular adherence of the Procedures and recommends establishing the Procedures on all salon logbooks.
For further information on the "INTA Pedicure Equipment & Disinfecting Procedures" and INTA membership, salon professionals should visit www.AmericasBeautyShow.com/INTA or call 312-321-6809.