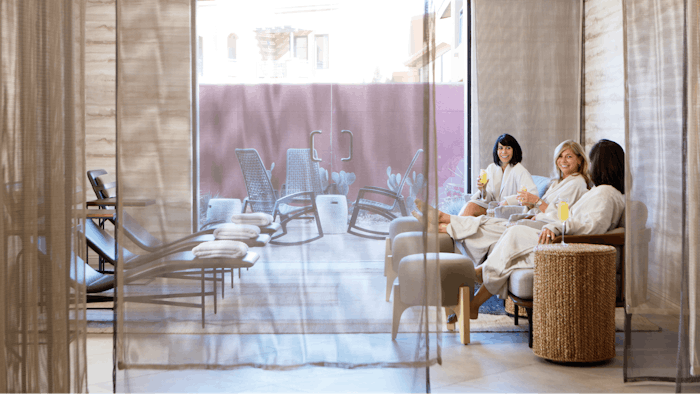 Photo Courtesy of Wilde Resort & Spa
The Wilde Resort & Spa is introducing a menu of luxury treatments and wellness experiences for guests to indulge in this summer, including sound healing, massages and energy reading. All treatments are inspired by various regions around the world.
The Haven Spa at Wilde Resort & Spa offers specialty bodywork, Sedona-inspired massages, meditation, wellness classes, facials, esthetic services and yoga nidra with sound bowl healing. With each treatment, guests can soak in the outdoor hot tubs, unwind in the relaxation lounge and detox in the steam rooms for the full spa experience. The spa utilizes top-of-the-line products from Naturopathica Skincare and Osmosis Skincare, and newly implemented Zents CBD Oil to revitalize and soothe skin. 
Related: Chatwal, New York Reveals New Wellness Suites That Engage All Five Senses
Inspired by Sedona's slide rock formations, the Seven Sacred Pool Treatment brings balance to the seven chakras of the body. An essential oil massage is combined with energy work to harmonize the energy flow.
Local experts from Sedona will provide intuitive reading services at the spa this summer. Sedona is considered a sacred and energetically charged place for its unique spiritual energy and its association with healing, self-discovery and personal transformation.
The Sedona Forest Massage is a signature full-body aromatic, detoxing relaxation massage that uses a wild-infused eco-healing oil made of native ingredients including Juniper, Palo Santo, Sage, Cedar and Cypress.
The Black Seed of Blessing includes a tension-taming therapeutic massage with black seed oil and frankincense that were used in ancient times for their healing qualities of reducing inflammation, detoxing and building immunity.
The Haven Spa also offers sound healing with crystal alchemy bowls to promote deep relaxation, reduce stress, to create, and shift energy to connect to a higher self with tones made by alchemy singing bowls heard throughout the whole body.