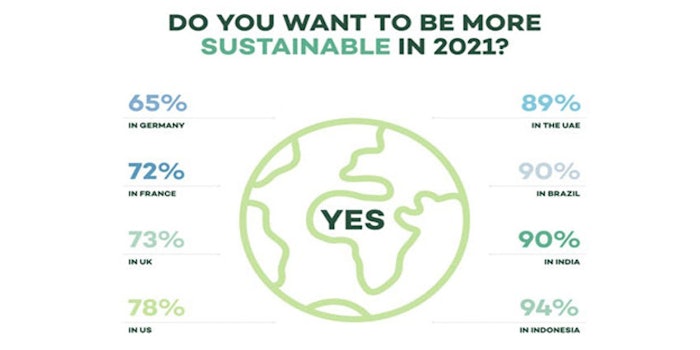 According to Garnier's One Green Step Report, consumers have become more environmentally conscious over the past year. It examined the shift toward environmentally focused New Year's resolutions in 2021, and suggests that 2020 was a significant wakeup call for many who now feel the need to take further steps to protect our planet.
The research was conducted by Opinion Matters, with 18,123 respondents over 16 in the UK (2,008), U.S. (4,010), France (2,039), Germany (2,012), India (2,029), Indonesia (2,003), Brazil (2,022) and the UAE (2,000). 
The survey of American respondents who made 2021 resolutions revealed:
Almost 60% cite a reduction in their use of plastic products as their No. 1 green priority
More that 78% want to be more sustainable
31% have started making changes to their behaviors as a result of the pandemic
Other countries spotlighted in the report also wish to be more sustainable, including 73% of those surveyed in the UK, 72% in France, 65% in Germany, 89% in the UAE, 90% in India and Brazil, and 94% in Indonesia all agreeing it was a goal. 
When asked why they think it would be easier to make a green resolution now than in previous years, 32% of those surveyed in the U.S. said that the Covid-19 pandemic had made them re-evaluate their priorities. However, a bigger factor for enacting change was due to brands making it easier by offering more environmentally friendly packaging.
About 35% of respondents said the reason they were finding it easier to go green this year was that they now felt more knowledgeable. The report also covers consumers' appetite to "sustain the good," where 27% of respondents feel more accountable for their behavior post pandemic.