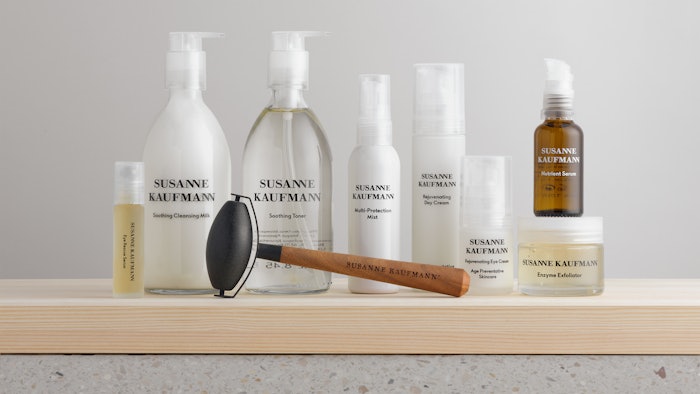 Photo courtesy of Susanne Kaufmann
Susanne Kaufmann has partnered with the Four Seasons Hotel and Residences at The Surf Club. The Surf Club spa will exclusively partner with the skin care brand to offer signature treatments and products that provides a holistic approach to wellness. 
The new spa menu designed by Susanne Kaufmann for The Surf Club will feature treatments that solve skin concerns through strengthening the skin's ability to protect against environmental stress. Each treatment will be curated to each guest's individual needs and be paired with the skin care brand's natural products. 
Related: [Inspiration] The New Cactus Body Mask Treatment at Chileno Bay Resort
3 Glowing Treatments
Holistic Rejuvenating: Crafted for the body and mind, the power of nature provides an indulging facial experience that includes a deep cleanse, gentle exfoliation, and the application of specialized serums and a face mask. The signature facial and neck massage harnesses the properties of plant-based ingredients to boost skins' well-being, providing you a fresh, supple and radiant, rejuvenating feeling.
Transformative Facial: The ultimate restorative facial, this treatment is designed to reduce the effects of harmful environmental influences, care for premature skin weakness and release deep tension within the muscles of the face and shoulders. The treatment works hard to rejuvenate and repair with individualized products that contain a complex of minerals, precious gemstone essences and the nutrient-rich power of tree-bud extracts to help restore skin health, while boosting collagen production for a youthful, renewed complexion.
Hydration Boost with Ultrasound: An effective facial paired with Ultrasound technology, aids the absorption of Susanne Kaufmann's active ingredients. Tailored to nourish, firm and plump the skin harnessing the power of the Swiss apple variety Uttwiler Spätlauber, known for the longevity of its stem cells. The treatment is designed to replenish and protect while rejuvenating.
The treatment offerings highlight locally sourced botanical ingredients to celebrate the brand's commitment to minimizing their carbon footprint and preserving the planet for future generations. The spa also offers a tea lounge and a wellness area with a steam bath, sauna, relaxation rooms and Florida-inspired Hammam.
"The Susanne Kaufmann Spa at The Surf Club offers a menu of results-driven, targeted facial and body treatments that rejuvenate, nourish and support the skin for long-term benefits," said founder Susanne Kaufmann. "I wanted to create an experience that celebrates the rituals and wellness practices that are deeply rooted in our lives in the Alpine region, whilst honoring the culture, spirit and attitude of The Surf Club."