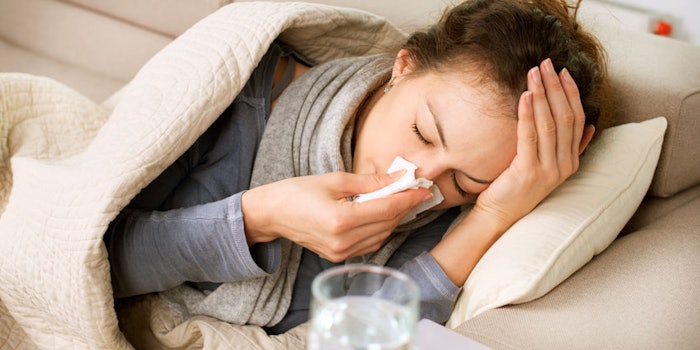 The flu can take a huge toll on both the body and the skin, but the Flu Recovery Facial can help you relieve one of those problems for your clients. Thai Morrison, celebrity esthetician and founder/co-owner of Koffee Day Spa created the Flu Recovery Facial after she came down with the virus. She explains, "I was drained as a result of the flu and saw that my skin was dehydrated due to not being able to really eat or drink much. I noticed that a lot of my clients were also having the same issues with their skin, and I found this treatment to be the most effective." 
The Flu Facial Treatment
The Flu Recovery Facial has the ultimate glow of restoring hydration to the skin while reducing darkness and puffiness under the eyes. In total, the Flu Recovery Facial should take between 45 and 55 minutes to complete. Thai Morrison uses products from the her Kanvas Skincare and Kanvas MD product lines. 
Step 1: Double cleanse the skin using the Kanvas Flower Power Oil Wash
Step 2: Exfoliate the dead skin cells away with the Kanvas MD Polished Emollient Cleanser, while providing a face massage that targets sinus trigger points.
Step 3: Apply the Kanvas Glow Mask, and allow it to sit for 10 to 15 minutes. 
Step 4: Apply Kanvas Plump Gold Eye Pads under the eyes while the Glow Mask is still on.
Step 5: Apply steam.
Step 6: Thoroughly rinse off the mask and apply Avené Thermal Spring Water.
Step 7: Apply the Kanvas Glow Cream moisturizer and the Kanvas MD Antioxidant Sunscreen Cream.
The Flu Facial Results
Morrison explained, "The Kanvas Flu Recovery Facial is special because it gives instant results and minimizes the damage to the skin from the flu." Clients will leave the treatment with highly moisturized, hydrated and restored skin.
The technique used in the facial will also relieve congestion resulting in the sinuses opening up. This facial treatment allows clients to be able to return to work with glowing skin rather than looking like they had just recovered after being sick for a week.
The Flu Facial in Your Spa
Morrison also emphasizes how the flu facial is not limited to only clients who are sick. This facial treatment provides a large amount of hydration to the skin, so it can also be used on clients suffering from dry and dull skin as well.