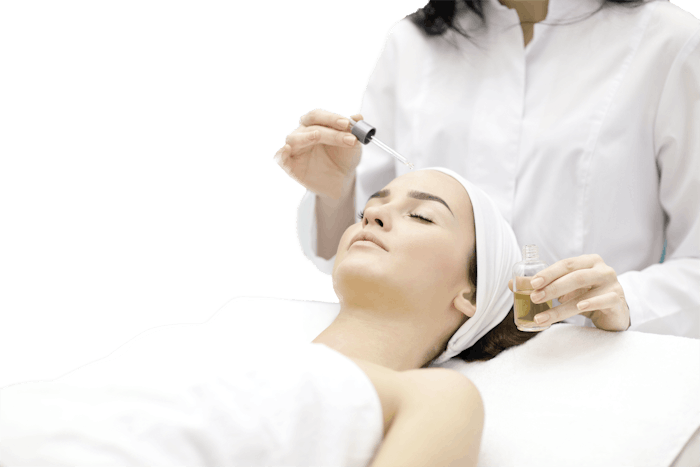 When and how do dark spots appear?
Pigmentation is what gives our skin its very unique colors and tones. It comes from a process called melanogenesis during which melanin, the molecule responsible for pigment, is produced. When this process becomes unstable, the complexion loses its even tone and youthful radiance.  If left untreated the problem of excess pigment can escalate and random brown/black spots can darken, enlarge and spread to other areas of the skin.  Pigment disorders adds years to a woman's perceived age, and  62% of women of every age and ethnicity  are seeking effective product solutions for both complexion brightening and targeted pigment control.    
Aging, Hormonal Disturbances, Sun Exposure, Inflammation, Past Acne Blemishes, Drug Interactions and other factors all have the potential to undermine the skins normal pigmentation process, causing melanin to overproduce and become unevenly distributed, settling into clumps along the skin's surface.
Combining the perfection and strength of nature with advanced scientific research in pigment control, YON-KA has formulated ESSENTIAL WHITE, a regimen of complexion brightening and targeted dark spot treatments to effectively combat pigment disorders regardless of their origins.  Treatment that included our intensive salon series and homecare produced visible results in just 28 days!
ESSENTIAL WHITE is part of a complete program to correct and prevent discolorations and dark spots, while it unifies and brightens the entire complexion.  The complete program consists of three complementary home care products plus an expert care professional salon treatment, available in 60' and 30' formats. 
ESSENTIAL WHITE Home care:  Three Clinically Tested Formulas Work in Tandem.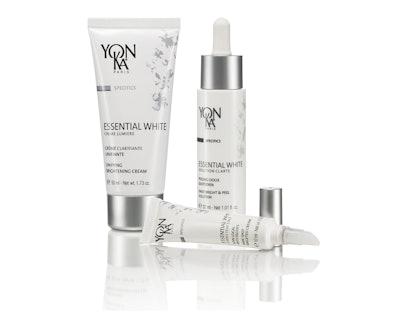 Step 1:  SOLUTION CLARTE – Exfoliates & Brightens
A Skin Renewing Solution:  Rich in natural acids and enzymes to exfoliate and promote cell renewal.  SOLUTION CLARTE is boosted with brown alga which helps normalize the melanogenesis process. Apple extract, rich in malic acid, helps to neutralize the damaging effects of free radicals.   
Step 2:  CRÈME LUMIERE – Brightens, Anti-Dark Spots, Anti-aging
A Brightening and Unifying Crème:  Chrono stable Vitamin C, Beech Bud Peptides and Apple Extracts work in concert to brighten the complexion and blend dark spots by targeting the problem at its source. 
CRÈME LUMIERE is a protective and balancing crème which also controls solar elastosis and photo-aging while it promotes long-lasting brightness to the overall complexion. 
Step 3:  CORRECTEUR CIBLE – Targeted Dark Spot Corrector
Intense and Targeted Corrective Treatment:  Chrono stable Vitamin C and red algae interferes with different stages of the melanogenesis process controlling the size, number of contrasts of dark spots. 
Dark spots, also known as hyperpigmentation, is caused by an over production of melanin.
ESSENTIAL WHITE COLLECTION – HERO BRIGHTENING INGREDIENTS
CHRONO STABLE VITAMIN C:
At the heart of the collection is "Chrono stable" vitamin C; with several patents and an ability to resist oxidation, chrono stable vitamin C progressively enters the cell which helps to sustain its bioavailability.   It controls three main action of the pigment producing process:
Direct action on the melanin and its precursors
Action on the enzymes responsible for melanin synthesis
Action on the enzyme transcription factor
RED ALGAE:
Red Algae acts at three key points of the overall pigmentation process which helps to correct existing discolorations and prevent future spots from appearing: 
Inhibits Tyrosinase Activity, an essential enzyme required for melanogenesis
Degrades  melanosomes development, organelles which transport pigment to the skins outer layers
Limits the effects of U.V. to melanin production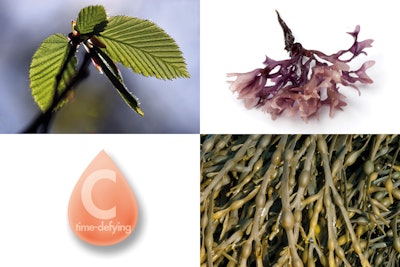 BROWN ALGAE
This brightening seaweed is sourced along the French Brittany Coast of the Atlantic Ocean.  It degrades the pigmentation process by blocking tyrosinase production to visibly lighten the depth of brown pigment spots.
BEECH BUD PEPTIDES:
An extract from the Beech Tree, which is commonly referred to as the "tree of eternal youth" because it lives on average 200-250 years.  Using a patented extraction process to isolate and remove the peptides, Beech Bud extract energizes the skin's metabolism and improves the oxygen consumption of cells.
ESSENTIAL WHITE PROFESSIONAL TREATMENT
A customized brightening and targeted dark spot correcting treatment               
In addition to steady home care, YON-KA recommends that clients with pigment irregularities receive the ESSENTIAL WHITE Professional Treatment, which is available in 30 and 60-minute formats.  Our 1-month complete ESSENTIAL WHITE program involves one 60-minute treatment to target pigment imperfections, followed by three 30-minute treatments to achieve striking results that last.  The ESSENTIAL WHITE Treatment also features the new PEELING LUMIERE, the exfoliating professional strength peel with a high 30% concentration of AHA and BHA.  The brightening action of this potent pro peeling is boosted with Vitamin C and brown algae.  Polysaccharides rich in rhamnose and galactose boost Sirtuin 1 proteins helping to extend the life span of cell.  

Hyperpigmentation is one of the most common skin conditions, and often one of the most difficult to correct. Having and setting proper expectations, and the commitment to be consistent, with both professional treatments and the corresponding home care products, is the key to successfully treating dark spots and maintaining results.
There are several key factors that play a vital role in addressing hyperpigmentation; precaution, prevention, patience, persistence and diligence.  A golden rule in skin care is the more you prevent and protect early on, the less correction you will have to do later on.
Sun avoidance is the most important precaution we can take in the prevention of dark spots. Avoid intense UV exposure during the peak hours of 10 am to 2 pm, seek the shade if sun exposure is not avoidable, and cover your face, by wearing hats, sunglasses or seek shelter under an umbrella. Completely avoiding UV exposure is almost next to impossible; therefore utilizing broad spectrum SPF on a daily basis is vital in preventing dark spots and controlling melanin synthesis. Vigilance & diligence is key, daily sun protection is an essential part of any hyperpigmentation program, without daily SPF we cannot prevent, control and correct dark spots.
In as little as 28 days, Yon-Ka Paris's new Essential White Collection imparts the skin with a beautifully, brightened and even complexion and tone, leaving the skin looking more youthful and radiant.
Disclaimer:
The above paid-for content was produced by and posted on behalf of the Sponsor. Content provided is generated solely by the Sponsor or its affiliates, and it is the Sponsor's responsi­bility for the accuracy, completeness and validity of all information included. Skin Inc. takes steps to ensure that you will not confuse sponsored content with content produced by Skin Inc. and governed by its editorial policy.