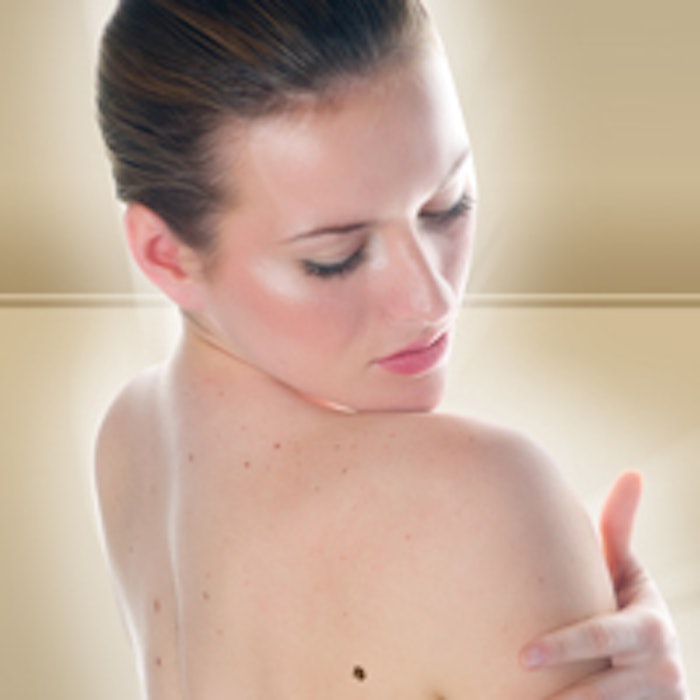 Lauryl, 17, couldn't wait for senior prom. She was seeing her mother's favorite esthetician the week before the event for a deep cleansing back treatment. It would leave her skin polished and smooth under her strapless prom gown. Lauryl's skin glowed from the tan she had carefully cultivated at the local tanning salon, where she and a few other girlfriends regularly visited the past two winter seasons to keep up their bronze skin tone. On the bed, she placed her face in the cradle and relaxed while the steam warmed her skin. During her treatment, the esthetician began to cleanse and then stopped. "Lauryl," her esthetician said. "Have you ever noticed this spot on your back? It sort of looks like a little scab, but it's dark underneath, with irregular borders."
One week after her senior prom, Lauryl was home, recuperating from Mohs surgery, with a three-inch-long scar. What looked like a tiny scab with a dark base on Lauryl's upper back had turned out to be malignant melanoma, a cancer that spreads to lymph nodes when the tumor is not detected early and is more than 1 millimeter thick. The doctor had to remove a crusted, pigmented area with a full one-centimeter margin. Fortunately, due to her esthetician's ability to recognize the early symptoms of melanoma, Lauryl's cancer had not spread to her lymph nodes or vital organs.
What teens believe vs. the real story
According to a study published by J Robinson, et al, in the Archives of Dermatology in April 2008 called "Indoor Tanning Knowledge, Attitudes, and Behavior Among Young Adults From 1988–2007," knowledge of the melanoma/skin cancer link with tanning changed from 42% in 1988 to 38% in 1994; up to 87% in 2007. Knowledge of limiting tanning to help prevent melanoma increased to 77% from 1988–1994, but decreased from 1994–2007 to 67%, which was simultaneous with an increase in the attitude that tanned skin looks better than pale skin, from 69% in 1994 to 81% in 2007. Because of this change in perception, it is more important than ever for skin care professionals to spread the word to teen clients about the dangers of sun exposure and the possibility of melanoma. Here are several common teen misperceptions about cancer and sun exposure, followed by the real story; this information should be shared with clients, teens and adults alike. (Editor's note: To help spread the word about the truth behind sun exposure, make copies pf the PDF that can be accessed on our site at www.SkinInc.com/current in the Web Exclusives box to provide to every client after services and to consumers at community events.)
Teens believe: Skin cancer only happens to people over 40.
Real story: Although melanoma most commonly appears in adults over the age of 60 after many years of sun exposure, the incidence of melanoma in children, teens and young adults is growing yearly, according to the American Cancer Society. The frightening truth is that, according to the December 2008 issue of Skin & Aging magazine, among young American adults aged 25–29, melanoma is the most commonly diagnosed cancer, and the No. 1 cause of cancer death among 15–20 year olds.
Teens believe: Tanned skin looks healthier than pale skin.
Real story: The American Academy of Dermatology (AAD) conducted a recent sun exposure teen study and found that 63% of teens believe they look better with a tan, while 43% admitted to lying out in the sun. One-third of the teen respondents claimed to "always" use sunscreen, with nearly the same number of teens declaring they never use it. The sun produces both UVA and UVB rays, both of which are linked to DNA damage and cell mutation. Like other nonmelanoma skin cancers, the major driver is sun exposure. Tanned skin is actually an indicator that the skin is damaged, so there is no safe tan. Injury to the skin barrier induces the production of melanin melanocytes within the skin to increase protection.
Teens believe: Tanning beds are safer than the sun because they don't have the UVB rays that burn the skin.
Real story: Tanning beds tout their "safer" tanning rays, but remember any tan is a sign of damage to the skin. The Journal of the American Academy of Dermatology published data in 2003 that showed that 95% of tanning customers received more than the recommended dose of UV radiation, after studying 50 tanning facilities. Tanning beds can expose an individual to four times the amount of UVA and two times the amount of UVB as a similar period of sun exposure.1 People are unable to feel UVA rays on their skin, but they contribute the most to skin aging and skin cancer. UVA rays inhibit the function of the surveillance cells, or Langerhans cells, that detect damaged cells and send white blood cells to stop the damage.
Teens believe: You only need to wear sunscreen on sunny summer days.
Real story: UVA rays penetrate through clouds and windows, and are reflected off concrete, asphalt, snow and grass. These rays are present from sun up to sun down, year-round.
Teens believe: Wearing sunscreen every day will cause a vitamin D deficiency.
Real story: Vitamin D is imperative to prevent organ system degeneration. The human body only needs 20 minutes of noontime exposure to sunshine a day, on the head, neck and hands, to make about 1,000 international units (IU) of vitamin D. Oral vitamin D supplements have been found to be as effective as sun exposure, and the human body does not know the difference between the two.2 Consuming 2,000 IUs daily has been shown to decrease malignant melanoma mortality by 50%.3
It is likely that even with sunscreen application, vitamin D is still synthesized in the body, since the average person applies only 25% of recommended thickness of sunscreen to all sun-exposed areas on the body. So the true sun protective factor of SPF 30 would only amount to 3+. The AAD recommends applying two layers of sunscreen on all exposed areas, with the second layer applied 30 minutes after the first, at least 30 minutes before sun exposure.
Teens believe: You don't need to use sunscreen if you are naturally tan.
Real story: All colors of skin, regardless of race, should be using sunscreen. Naturally darker Fitzpatrick skin types have a lower incidence of skin cancer, but when melanoma is discovered on darker skin, it is more advanced than on lighter skin. In addition, melanomas in darker races are usually distributed to palms, soles and digits. Normally, melanoma occurs in lighter races 25 times more often than in darker races.4
Recognizing signs and symptoms
Look for any changes in the skin, especially in the size or color of moles, other darkly pigmented growths or spots, or new growths. Have you noticed any scaliness, oozing, bleeding or changes in the appearance of a bump or nodule? Also, ask clients if they have experienced changes in sensation, itchiness, tenderness or pain. The spread of pigmentation beyond its border, such as dark coloring that spreads past the edge of a mole or mark, is another early indication.
Remember the ABCDEs of skin cancer detection:
A—Asymmetry. Most early melanomas are asymmetrical. This means that you cannot draw a line down the middle and have equal parts on each side.
B—Borders. The borders are uneven.
C—Color. Varied shades of brown, tan or black are often the first signs of melanoma.
D—Diameter. Early melanomas tend to grow larger than common moles. Pay attention to spots that are larger than the diameter of a pencil eraser.
E—Evolving. Changing in any parameter: color, size, shape or feel.
Melanomas in young adults are found more on the trunk of the body, rather than on the head or neck, just as in the elderly.5 However, the incidence of melanomas on lower legs of females is significant.6
Sunscreen and beyond
There is no denying that daily use of sunscreen with broad-spectrum protection (SPF 50 or higher) should become a habit as important as brushing your teeth twice a day. Look for active ingredients such as zinc oxide, titanium dioxide, avobenzone or ecamsule for both UVA and UVB protection. For teens that are acne-prone and oily, try recommending a noncomedogenic zinc oxide sunscreen.
Because no sunscreen blocks every photon of light striking the skin's surface, it should ideally also contain a blend of anti-inflammatory agents or antioxidants. Another major preventive strategy is to recommend skin care products that help reduce the effects of chronic inflammatory factors in the skin while repairing and strengthening the skin barrier to help provide better protection from the sun's harmful rays.
More than half of the states in the United States now have legislation in place that restricts or bans indoor tanning without parental consent for minors, but laws alone are not going to stop teens from tanning. Altering the public mind-set is required to make a change in this country's rising teen and young adult skin cancer statistics.
A study conducted in the Texas cities of Dallas and Houston involved 210 junior high and high school students, ages 12–18, that tested general knowledge of sun exposure and melanoma. After the first exam was completed, the students were then provided correct answers with detailed explanations for each test item. The participants were then given a second exam to measure the effect of the educational piece on future sun exposure practices. It was concluded that students 12–15 years old were significantly more likely to change future behavior after learning about skin cancer prevention and melanoma.7
Skin care professionals must seize this incredible opportunity to educate younger clients and consumers about the dangers of sun exposure, the importance of protecting their skin daily and how to shift the attitude that pale skin, rather than tanned skin, is the real look of healthy beauty.
Reach out
Now is the time to reach out beyond your customer base to provide skin cancer education to your community. Consider sending your lead esthetician with a UV skin scope to visit local junior high and high school health classes, or volunteer at community education classes to teach skin cancer awareness and prevention. For more ideas, see Skin Care Awareness Initiatives.
Lauryl, cancer-free for four years, has now learned to embrace her pale skin. Whether it's sunny or stormy outside, she never leaves the house without wearing SPF 30 broad-spectrum sunscreen, takes a daily vitamin D supplement, wears Ultraviolet Protection Factor (UPF)-rated clothing and does her best to avoid overexposure to UV light.
.REFERENCES
1. A Whitworth, Legislators Combat Melanoma, Restrict Teen Tanning, J of the National Cancer Institute 98 22 (Nov 15, 2006)
2. C Thornfeldt and K Bourne, The New Ideal in Skin Health: Separating Fact from Fiction, Allured Books, Carol Stream, IL 153 (2010)
3. Physician's Desk Reference, 60th Edition, Thompson PDR, Monvale, NJ 2384, 2138 (2006)
4. RV Kundu, et al, Effectiveness of knowledge based intervention for melanoma among those with ethnic skin, J Am Acad Dermatol 65 5 777–784 (May 2010)
5. J Lange, et al, Melanoma in children and teenagers: An analysis of patients from the national cancer base, J of Clin Oncol, 25 11 1363–1368 (Apr 2007)
6. DK Pruthi, et al, Incidence and anatomic presentation of cutaneous malignant melanoma in central Canada during a 50-year period: 1956 to 2005, J Am Acad Dermatol 61 1 44–51 (July 2009)
7. A Lucci, et al, Assessment of Knowledge of Melanoma Risk Factors, Prevention and Detection Principles in Texas Teenagers, J of Surg Research 97 2 179–183 (May 2001)
Carl Thornfeldt, MD is founder and chief executive officer of Episciences, Inc., the manufacturers of Epionce skin care. He has practiced dermatology for 30 years. Thornfeldt is co-author of the book The New Ideal in Skin Health: Separating Fact from Fiction (Allured Books, 2010)