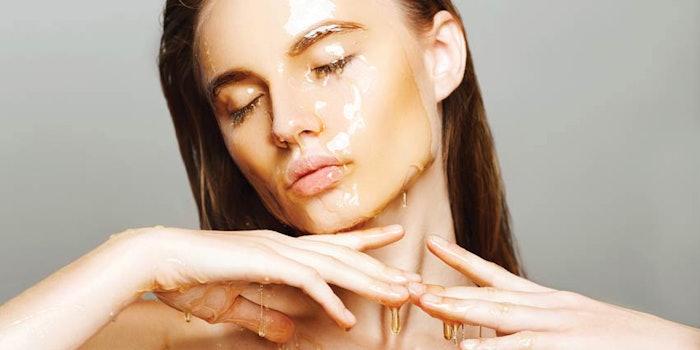 Editor's note: This article has been adapted with permission from our sister brand's, Skin Inc.'s, monthly column, "Jar Deconstr­­ucted." In it, the editors review research and commercial reports about an ingredient of interest, along with spa and professional products that apply the ingredient. See the original, from 2017, here.
There's a reason we use "honey" as a term of endearment. It's sweet, like a valentine, but also takes good care of our skin; from healing wounds, to acting as an antioxidant. Royal jelly, which is fed to the queen, can act on the epigenome to provide anti-aging effects in skin. And although bees may sting us, their venom can benefit skin as well as stimulate hair growth, as recent studies have shown. Here, we review the latest studies on these un-bee-lievable benefits.
Honey Healing
Honey has widely been used for therapeutic effects. According to one report,1 it is believed to contain nearly 200 substances including fructose, glucose, fructo-oligosaccharides, amino acids, vitamins, minerals and enzymes. The specific composition of honey will vary based on what surrounding plants the bees feed.
Almost all natural honey contains flavonoids, phenolic acids, ascorbic acid, tocopherols, catalase, superoxide dismutase, reduced glutathione, Maillard reaction products and peptides. And most of those compounds provide synergistic antioxidant effects.1
Manuka honey, which has drawn recent interest, is simply honey made from the manuka tree found in New Zealand. Manuka honey is known for healing, anti-viral and nutritional properties, and according to TheHealthCloud, it is much better regulated than other honeys. "If it says 'manuka' honey on the jar, you can be much more confident it will actually be manuka honey in the jar, rather than sugar syrup and sweeteners," this source reports.2
What evidence is there for these "amazing" effects? For one, new work from Italian researchers indicates manuka honey can treat chronic skin ulcers.3 A powder formula was developed to deliver manuka honey's active components to skin. Pectin, chitosan glutamate and hyaluronic acid were combined to create mini-capsules, which were optimized and freeze-dried.
This carrier system, loaded with manuka's active components, increased cell growth and provided antimicrobial activity against Staphylococcus aureus and Streptococcus pyogenes. It also improved wound healing in an animal model.
Once a scar is present, however, it does not appear manuka honey can erase it. In a separate study, 21 patients applied either a manuka honey-based or standard treatment to their incision sites once daily. At four and eight weeks post-surgery, no statistically significant difference in scarring was observed between the treatments.4
In other work,5 researchers assessed the capacity of manuka honey to protect against oxidative damage as well as improve wound healing. Manuka honey protected against cell death, intracellular reactive oxygen species, and lipid and protein oxidative damage. Furthermore, it supported mitochondrial functionality, promoted cell proliferation and activated the expression of antioxidant enzymes, among other effects.
Sweet Youth
Royal jelly is another bee byproduct that's creating buzz in skin care. This substance is responsible for the queen bee's development in nature. Although bees are identical to one another on a genetic level, worker bees and the queen differ in lifespan, fertility and size. This is due to the epigenetic changes in the queen evoked by feeding on royal jelly during the larva stage.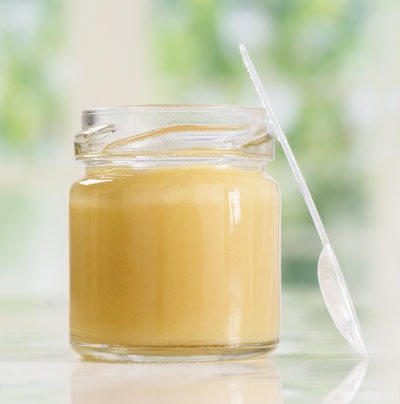 According to one cosmetic ingredient supplier,6 the component in royal jelly that drives queen development is the protein royalactin. Thus, a new ingredienta was designed to mimic the ability of royalactin to restore skin's youthful appearance.
Love Nip
"Beauty is pain," the saying goes, which may be the impression you get at the thought of bee venom for beauty care. But new research takes "sting" out of the equation, with promises for lip care, hair growth, and acne and atopic dermatitis treatment.
A patent7 out of China in 2015 described a bee venom composition to beautify, nourish and protect the lips. Invented by the South China Sea Institute of Oceanology and the Chinese Academy of Sciences, bee venom was prepared by dissolution in water, ultra-filtration and freeze-drying. This preparation was reported to impart moisture-retaining, nourishing, sun-blocking, repairing, lip-plumping and wrinkle-eliminating benefits. Further, it enhanced the ability of lips to resist environmental assaults.
Purified bee venom has also been evaluated for acne therapy.8 Thirty subjects having mild to moderate acne were treated with purified bee venom serum twice daily for a period of six weeks. Clinical evaluations of lesions were made by experts and image analysis. The average visual acne grade of all volunteers significantly improved with the bee venom serum, compared with baseline measurements. The subjects also showed improvement in open comedones, closed comedones, papules, pustules and nodules with the bee venom treatment; and without serious side effects or irritation.
Finally, while it may seem counter-intuitive, bee venom is known for its anti-inflammatory effects, which appear to improve atopic dermatitis (AD) and similar conditions. In one study,9 bee venom acupuncture alleviated AD-like skin lesions by inhibiting inflammatory and allergic responses.
In other work,10 a topical emollient containing bee venom or not, as the control, was used to treat 136 patients with AD twice daily for four weeks. The eczema area and severity index (EASI) score, trans-epidermal water loss and visual analogue scale (VAS) score of itching were used to evaluate skin conditions. Patients who applied the emollient containing bee venom showed significantly lower EASI scores and VAS values, suggesting the emollient containing bee venom is a safe and effective option for patients with AD.
In the Spa
There are a number of spas in the United States that use bee-derived ingredients in treatments for facial and body beautifying benefits.
In September 2016, Monarch Spa opened in Oakbrook, Ill., with treatments featuring on-site harvested honey. The spa was incorporated into the renovated Oak Brook Hills Resort, surrounded by Monarch butterfly waystations that dot the hotel's serene 150-acre Audubon sanctuary. The spa offers a signature Warm Honey Drizzle body treatment, using home-grown honey sourced from resort beehives. The beehives are managed by Sean Curry, the executive chef at the resort's farm-to-table restaurant B. He became a certified beekeeper in concern for the declining honeybee populations, and he tends to 10 large beehives on-site with up to a half million honeybees that not only pollinate his gardens but provide honey for both dishes and treatments. Stay tuned to a future issue of Skin Inc. for a Spa Snapshot of Monarch Spa.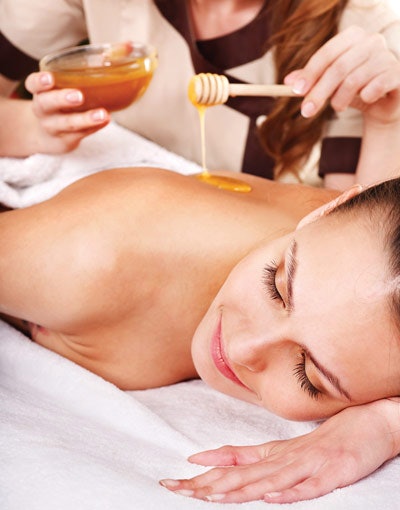 Conversely, Cascade Spa in Vancouver, Washington offers a Bio-Contour Skin Lifting Treatment with Bee Venom (90 min., $145), which utilizes a bee venom facial mask to increase blood flow and cell renewal to firm and plump the skin.
Two Royal Resort properties (The Spa in the Royal Sands and The Royal Haciendas) added Royal Jelly Facials to their offering this year, which moisturizes and rejuvenates skin to restore radiance and smoothness.
In addition to the bee-inspired treatments being offered in spas, skin care manufacturers are sourcing these remarkable creatures.
FarmHouse fresh keeps its honey local to ensure sustainable and eco-responsible sourcing. The honey it uses in its Honey Heel Glaze is sourced in Burleson, Texas, not far from its main headquarters. According to Shannon McLinden, president and founder of the company, the glaze uses honey "as both a humectant and also as a moisturizer. We sourced certified organic honey from Brazil, one of the few locations that according to USDA auditors, actually greenhouses their bees to ensure that their bees do not fly through fields of pesticides or pollinate flowers treated with synthetic pesticides or herbicides. Given that bees fly freely, sometimes up to 70 square miles, finding US-raised bees creating certified organic honey, untouched in any way shape or form by synthetic pesticides and herbicides, is very rare."
Repêchage also uses honey to moisturize the skin in its Honey & Almond Scrub. "Honey is a natural humectant, and helps retain moisture into the skin, while also containing soothing properties. Using a substantial level of pure, high quality honey allows our products to provide a high level of moisture to the skin." added Lydia Sarfati, the company's CEO and Founder
Bioelements uses honey for its acne benefits in both its Amino Mask and Acid Toner. On its use, Teresa Stenzel, director of education for the company, noted, "Honey (mel) has been used for thousands of years due to its natural antioxidant-like functionality and healing properties. It acts as a humectant, so it makes perfect sense that honey would be an ingredient that we would choose for products designed for acne. It helps the skin to self-heal, and helps prevent damage to the skin."
Honey can be found in a number of products from ilike organic skin care, including its Pumpkin and Orange as well as its Apricot Mask. "Honey is very versatile and beneficial for most skin types. It has antibacterial and anti-fungal properties, by which it helps clearing acne, while also supplying powerful antioxidants that supports slowing the aging process. It gently exfoliates to leave a smooth surface, and it is very hydrating without oils that results in silky smooth and vibrant complexion for all skin types, noted Szilvia Hickman, senior vice president of ilike distributor Szép Élet.
Royal jelly can be found in Pevonia's Rejuvenating Dry Skin Cream, Soothing Sensitive Skin Cream, Soothing Propolis Concentrate and Stem Cell Phyto-Elite Intensive Cream, where it counteracts dryness, nourishes, energizes, combats aging and protects. "In skin care, royal jelly is used for its anti-aging and nutritional skin properties. Royal jelly possesses vitamins, sugars, proteins, lipids and minerals and also is used as an humectant. It is very rich in nutrients: vitamin B complex, amino acids and enzymes and best known for its anti-aging benefits. It has natural antibacterial, antibiotic and anti-inflammatory properties. It also has wound healing properties and also works as anti-wrinkle, natural sunscreen and antioxidant," explained Ada Lamela, global corporate educator for Pevonia.
You can also find royal jelly in Biotone's Milk & Honey Sugar Body Polish to revive skin radiance and smoothness.
Plantogen produces products with a number of bee-derived ingredients. One of the most notable is bee venom, which is featured in its Royal Facelift Mask. The company explains that bee venom increases blood circulation to stimulate collagen and elastin for natural firming and lifting. The company also produces a range of products with manuka honey, which promotes collagen, serves an antioxidant role and heals.
Conclusions
Bees are Mother Nature's—and natural beauty's—little helpers, in countless ways. And with the right scientific moves, we can dance in step with them.
REFERENCES
aRoyalEpigen P5 (INCI: Pentapeptide-48) is an ingredient manufactured by Mibelle AG Biochemistry.