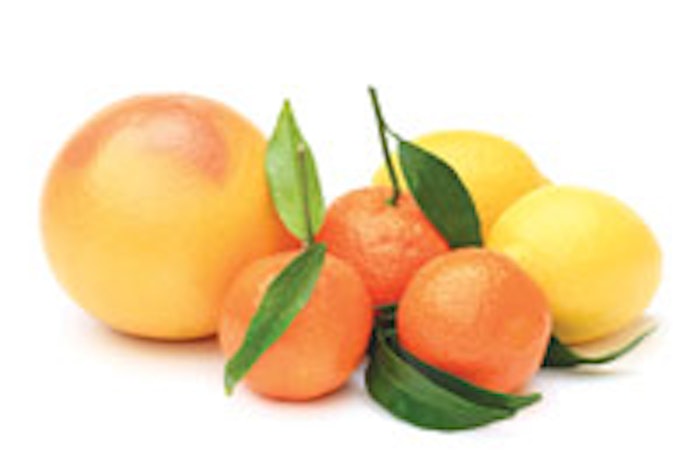 Today's ingredients are masters at communicating with cells, fighting photoaging and even repairing DNA with highly evolved defensive enzymes culled from the sea. They can restore youth to aged cells, fade dark circles under eyes and even brighten the mark of melasma.
The retinol enhancer: Allosteris
Not many single actives can so convincingly restore aging skin to a visibly younger-looking texture while stimulating collagen production as the retinoid family. Ever since Albert Kligman, MD, began his landmark research with retinoids in the 1960s, retinol has been widely regarded as the gold standard of anti-aging topicals for its crowning distinction of being able to regulate, rejuvenate and renew skin cells.
Yet, for every dermatologist lauding this precious commodity's performance in aging skin, many of their clients are quitting their vitamin A regimen as soon as the redness, flakiness and irritation surface. That's why it was nothing short of a breakthrough when Barnet Products Corporation started supplying a soy-based active complex known as Allosteris that improves the skin's reception to signaling molecules, including retinol and peptides.
Using a 0.5% Allosteris concentration, researchers have been able to reduce the retinol percentage in a formulation to as little as 0.03% and achieve a 22% increase in skin cell replacement, according to research from Barnet. By using less retinol, formulators are now able to achieve the same effect of the active while reducing the irritation and expense, according to Barnet product information.
Even independent of other actives, Allosteris proves its worth. At a 1% concentration, Barnet claims this ingredient has demonstrated an ability to increase gene expression in keratinocytes and modulate fibroblasts. The company also claims that Allosteris helps increase hydration by 33% and decrease wrinkles by 56%, in addition to improving clarity and firmness—all without the irritating side effects of retinol.
Fighting photoaging with stem cells: verbascoside
Several years ago, stem cell manufacturers stirred the proverbial kettle with several savory new ingredients culled from plant stem cells. By definition, the very idea of stem cells intrigues with their blank canvases of undifferentiated cells ready to inscribe the next generation of healthy cell division.
The pickings are plentiful. From edelweiss and echinacea to gotu kola, plant stem cells perform a wide range of functions, including reducing wrinkles, strengthening immunity and even fighting acne.
For photoaging, buddleja davidii stem cells—and their active constituent, verbascoside—have proven worthy contenders in protecting the skin by helping inhibit inflammation, preserve collagen and fight free-radical damage. Sederma research demonstrates daily use of a 2% concentration of its Buddleja Stems GX to protect the skin against UVA damage, improve skin structure and fight free radicals. Don't be surprised if you see this stem cell budding in sunscreens and moisturizers soon.
The cell organizer: Citrustem
Citrustem from Provital uses stem cells from oranges to help organize the inner structure of the skin, and improve elasticity and cell adhesion. According to the company, a study evaluating the effect of 0.1% Citrustem on 64 genes demonstrated this natural, sustainable active's ability to increase the expression level of collagen VI, elastin and ADAMTS2, a gene that codes the conversion of N-propeptides of procollagen into collagen.
Citrustem has also demonstrated in vitro efficacy in stimulating the proliferation of fibroblasts to increase collagen synthesis and other key elements of the extracellular matrix. The fruit of this latest innovation may also help the skin bear a quick recovery of the elasticity it once knew 12 years ago.
Restoring youth to aging cells: Progeline
While stem cells have attracted widespread attention for their promise to restore the skin-differentiation function to aging cells, Progeline, a three-amino acid peptide biomimetic, helps modulate a key marker of cell senescence in the absence of stem cells to significantly decrease sagging, slackness and wrinkles. As cells age, they lose their ability to divide; yet, they remain active, often generating collagen- and elastin-degrading metalloproteinases (MMPs). Senescent cells are also accompanied by an increased level of progerin, a toxic protein that can lead to DNA damage and contribute greatly to signs of aging. Progeline from Lucas Meyer Cosmetics acts as an enzyme-inhibitor to decrease progerin synthesis and improve the appearance of aging skin. In a placebo-controlled study of 13 volunteers ages 54–66, a cream containing 2% Progeline resulted in a 20% increase in firmness and a 21% increase in elasticity when applied twice daily for 28 days, according to Lucas Meyer Cosmetics.
The communication facilitator: Cyclopeptide-5
As the skin ages, the epidermis thins, the dermis becomes less compact and the basement membrane of the skin begins to flatten. In vitro data has demonstrated that Merck's RonaCare Cyclopeptide-5 up-regulates the genes that stimulate growth factors and proteins in the basement membrane. As a result, the glycoprotein laminin IV better binds to cell surface receptors to tighten the connection between the basement membrane and adjacent cell layers. According to Merck, Cyclopeptide-5 has the ability to down-regulate the genes responsible for stimulating the MMP enzymes that degrade collagen and elastin.
Bright new stars: Chromabright and ß-White
There are many skin-brighteners on the market today, but not all can claim to perform on par with hydroquinone. While hydroquinone is a favorite skin-lightener among physicians, it's also a controversial one known for its reputed toxicity. Chromabright offers a relatively new synthetic molecule that brightens the skin without the cytotoxicity or irritation linked to hydroquinone. It works similarly to many other brighteners, such as kojic acid, which inhibit tyrosinase, an enzyme vital to converting melanin into pigment in the skin.
In addition to its impressive clinical results, Chromabright offers a safe profile, high stability in formulations and a photoprotective effect on human skin cells. According to Chromabright manufacturer, Lipotec, in an in vitro study comparing ingredients' effect on inhibiting the production of melanin, Chromabright outperformed arbutin. magnesium ascorbyl phosphate (MAP) and kojic acid, and came within a few points of hydroquinine's inhibition percentage.
Even melasma seems to yield to this bright star of skin-brighteners, with a 0.5% concentration of Chromabright reducing the appearance of melasma by 72% in a study of 14 volunteers, according to Lipotec. Likewise, the peptide-based whitener ßeta-White, or ß-White, from Lucas Meyer Cosmetics (a business unit of Unipex Group), inhibits tyrosinase, but also decreases the very proteins involved in the pigmentation process.
In vitro studies demonstrate this liposome-encapsulated peptide's ability to decrease melanin synthesis better than arbutin and vitamin C. In a study of 23 Asian volunteers, Unipex claims a cream with 5% ß-White was applied twice daily for 56 days. After 28 days, ß-White reduced the appearance of pigmented spots by 21%. By day 56, pigmentation declined by 30%.
Under-eye flaw-erasers: Eyeseryl and Alpha Glucosyl Hesperidin
Eye creams have become much more sophisticated during the past several years, largely due to one heavy-lifter of lids: Eyeseryl. This tetrapeptide from Lipotec has demonstrated a significant decrease in reducing puffiness under the eyes in as few as 14 days. By decongesting water accumulation and offsetting the very mechanisms of eye edema, Eyeseryl at a 10% concentration has been shown to improve skin elasticity by 30% in 30 days, according to Lipotec. Further, at a 1% concentration, Eyeseryl showed a decrease of dark circles under the eyes.
Another eye ingredient to watch—Alpha Glucosyl Hesperidin—borrows tradition from the Japanese, who for centuries have regularly steeped citrus peels in hot baths. The fruits' bioflavonoid content has long been revered for its body-warming and circulatory benefits. As a skin care ingredient, Alpha Glucosyl Hesperidin helps improve blood circulation to overcome dark under-eye circles formed as a side effect of stress and cold climates.
Typically, hesperidin alone is poorly soluble, meaning it doesn't play well in formulations. However, proprietary technology from Hayashibara has led to a highly soluble form, which combines a glucose molecule with hesperidin to significantly up its solubility while retaining all the biological benefits. When this proprietary ingredient comes into contact with the skin, the a-glucosidase enzyme slowly releases the hesperidin, making the circulatory benefits bioavailable.
Don't get left behind!
As scientists continue to better understand the interaction between nature, science and skin physiology, the plethora of anti-aging skin ingredients will continue to widen. Don't get left behind! Stay in the mix with the most current research and development innovations.

Sam Dhatt is an award-winning cosmeceutical chemist who serves as the CEO and president of DermaQuest Skin Therapy and Allure Labs, a product formulation company, both of Hayward, CA. During his more than 20-year career, he has developed and manufactured skin care products for more than 700 companies. Dhatt is a frequent expert author of articles featured in many trade journals and skin care publications.