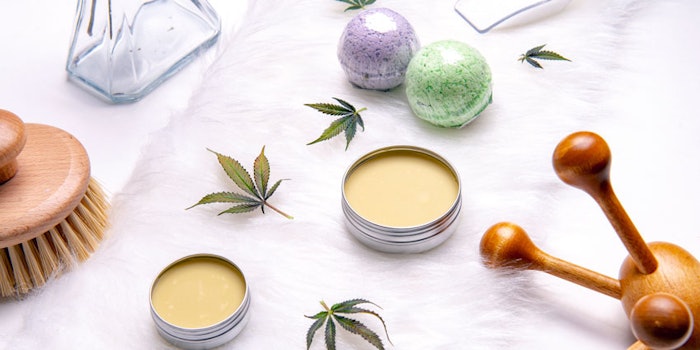 CBD has transitioned out of a buzzy trend in the spa and has become a well-known, beneficial ingredient. However, that isn't to say that CBD didn't have its ups and downs when it came to regulations, formulators and understanding how spa professionals knew they were bringing in the best for their clients. To clear up any lingering confusion that there may be on this well discussed ingredient, Skin Inc. sat down with Shauna Blanch, LMT, COO and co-founder of Color Up Therapeutics, to ask her the top five questions surrounding this ingredient in the industry. 
1. What is the difference between CBD topicals and hemp topicals? 
Shauna Blanch (SB): A topical with CBD in its formulation contains the active cannabinoid, cannabidiol (CBD). A topical with hemp contains hemp seed oil. Although hemp seed oil's INCI name is Cannabis sativa seed oil, it does not contain any active cannabinoids. CBD and hemp seed oil can be combined in formulations, but the cannabinoid CBD is what is working with the endocannabinoid system and is the constituent of the plant that just recently became legal. Hemp seed oil has been used in products for ages and has never been illegal.
2. What cautions should spa owners take before bringing CBD into their services and spa? 
SB: Spa owners should educate their therapists on what CBD is, how it is working with the body and why they are using it in the service. Guests have a lot of questions about CBD, and it's important for the professionals to be well educated so they can properly inform and prepare their clients. 
With so much misinformation spreading through the industry due to deceitful marketing techniques, it's also important to be cautious of inaccurate claims and labeling. There are a lot of products out there with hemp seed oil that are claiming to contain CBD. Make sure you're using products that indicate the CBD milligram content to ensure the CBD services you offer have the cannabinoid CBD present. Also, check in with your processing company to see if they have any rules or regulations around CBD. The company you choose should be able to assist you with answering any questions your provider has.
3. What should spa owners/professionals look for when shopping for CBD products? 
SB: First and foremost, find a company that has COAs (Certificate of Analysis) available per request. This is the most basic step to ensure that the CBD they use has been 3rd party lab tested. Asking the company for a certification from the Department of Public Health in the state where the company manufactures its products is a very important step in ensuring quality products and good manufacturing practices. It's best to choose a product line that formulates and manufactures its own products in-house, as this will cut out unnecessary middle-men and will add an additional layer of quality control. Find a brand that is dedicated to the spa industry, offers a professional backbar line and has professionals on board who can educate your team on everything from CBD and the endocannabinoid system, to why you are utilizing it in each specific service.
4. What common questions should spa owners be ready to answer for consumers?
SB: Will this get me high? Will it show up on a drug test? Those are two of the most frequently asked questions at the spa. The answer is always no when using topical products. Topicals applied to the skin do not enter the blood stream, rather, they work with localized cannabinoid receptors. If the client is going to be ingesting the product, a CBD isolate would be their best bet, as it contains zero THC.
"Can I travel across state lines or fly with it?" The answer is yes, as long as it's derived from hemp, you can travel with pure CBD and full-spectrum products that contain less than .3% THC.
Is this illegal in my state? As long as it's derived from hemp and not marijuana, it is legal in all 50 states coming into 2020.
The next questions will be to the therapist offering the CBD service and those will be more along the lines of "how is this working with my skin? What should I expect to feel? What is the endocannabinoid system?"
5. Are there any negative aspects to bringing CBD into a spa? 
When choosing to bring CBD into your spa, it's important to realize that there is still stigma around the cannabis plant. These misunderstandings can bring up unfavorable feedback and pushback from current or potential clients. Some ways to ease the community into your new offerings are by providing education classes at your space before and after launching the services, or by choosing a brand that you can refer your clients to for education.