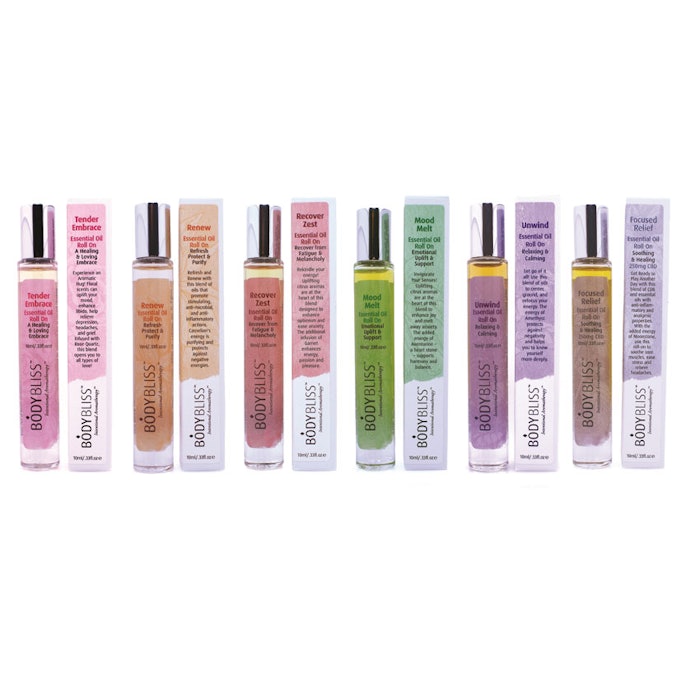 Crystal-Infused Essential Oil Roll-Ons work to increase energetic vibrations while providing balance and clarity. The roll-ons now come with new tubes and are infused with semi-precious gemstones to enhance well-being throughout the day. 
Roll-On Collection
Mood Melt: works to provide uplifting benefits and melt away anxiety. Uses citrus aromas combined with Aventurine to support harmony and balance.
Recover Zest: works to antidote fatigue and melancholy. Uses citrus aromas with Garnet gemstone to enhance optimism and ease anxiety. 
Renew: works to purify and protect the body. The combination of lemongrass, cypress, ylang ylang, rosemary and Carnelian gemstone works to protect against negative energy.
Tender Embrace: works to uplift moods. The combination of floral scents with Rose Quartz helps to ease headaches and grief.
Unwind: works to center, ground and refocus energy. The combination of sweet orange, lavender, patchouli and Amethyst gemstone protect against negative energy.
Focused Relief: uses full-spectrum CBD for soothing and healing. The combination of CBD, arnica flower and Moonstone help to calm and balance.