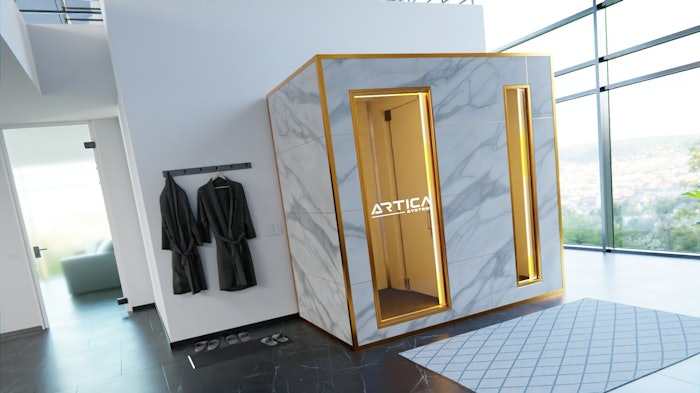 Artica Systems has released a 100% electric cryotherapy machine for commercial and residential use that provides fully immersive, whole-body cryotherapy experiences. The machine helps fight inflammation and promote healthy immune cells and can be customized to a broad spectrum of users and conditions.
Related: iCRYO Expands as Demand for Cryotherapy Grows
The cryotherapy fleet features patent-pending BreezeLink technology that lets users customize windspeed and refrigerant flow rates from inside the cabin. The machine boasts the smallest and quietest engine on the market (64dBA at 1m), with running costs of less than $8 a day, according to the company. The engine is on average four times quieter and 60% smaller than other American cryotherapy manufacturers and 80% smaller than European machines.
Customization and control of the machine are available through a custom IoT-based networking app that can be used on a mobile phone or PC. The company's CryoBoost and Rapid-Defrost technologies add capacity and maximize efficiency for extended use periods. Artica Systems' chambers come with real material finishes and dozens of configurations. 
"We figured the best way to develop a breakthrough technology was to work together with our clients. People who religiously use cryotherapy every day," said Evan Kuklinski, chief engineer of Artica Systems. "We addressed our prototypes systematically and learned what made for good cryotherapy, together. It was a clever bit of collaborative innovation."