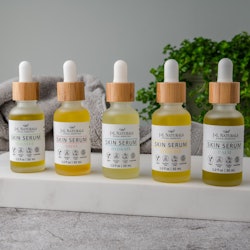 J&L Naturals' Skin Serums provide a potent dose of natural ingredients that target specific concerns. The product range includes serums that balance oil, provide a glowing complexion and boost hydration. 
Serums Include
Balance reduces excess oil and pore-clogging bacteria.
Shine reveals glowing, radiant skin.
Hydrate combats dry, flaky skin and delivers much-needed moisture.
Timeless rejuvenates mature skin and helps fight signs of aging.
Calm soothes irritated, sensitive, and/or acne-prone skin while strengthening skin barrier. 
704-677-7577, www.jnlnaturals.com