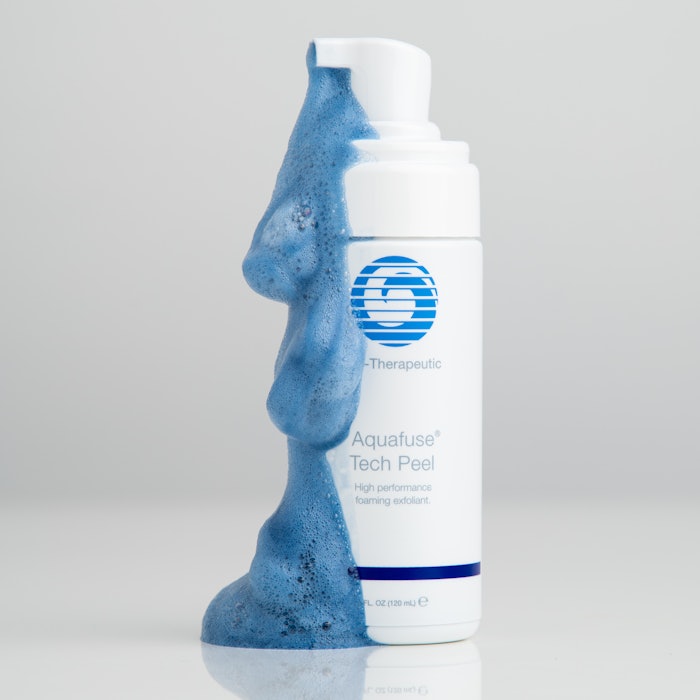 Bio-Therapeutic announced the launch of the Aquafuse Tech Peel, the latest addition to its technology accelerated skin care line. Featuring a unique foaming format, this wide spectrum peel combines glycolic, lactic and salicylic acids for skin smoothing, both in the professional service and in the home regimen.
Antioxidant Gardenia extract, which lends the product its dramatic blue color, lycopene rich tomato lipids and turmeric and lavender help to brighten the complexion while calming the skin. 
"For nearly fifty years, we've helped to pioneer a synergistic approach to professional skin services, bringing a truly unique combination of touch, technology and formula innovation together for true alchemy and dramatic results in every service," says David Suzuki, CEO of Bio-Therapeutic.
Aquafuse Tech Peel pairs well with a number of the company's core technologies, including the Bio-Brasion Trinity wet/dry microdermabrasion system, the bt-micro Fusion ultrasonic skin perfecting tool and others. When partnered with Bio-Therapeutic's professional only wet/dry microdermabrasion technologies, the Aquafuse Tech Peel delivers professional grade skin smoothing that can be maintained by the client at home with the retail size of Aquafuse Tech Peel.