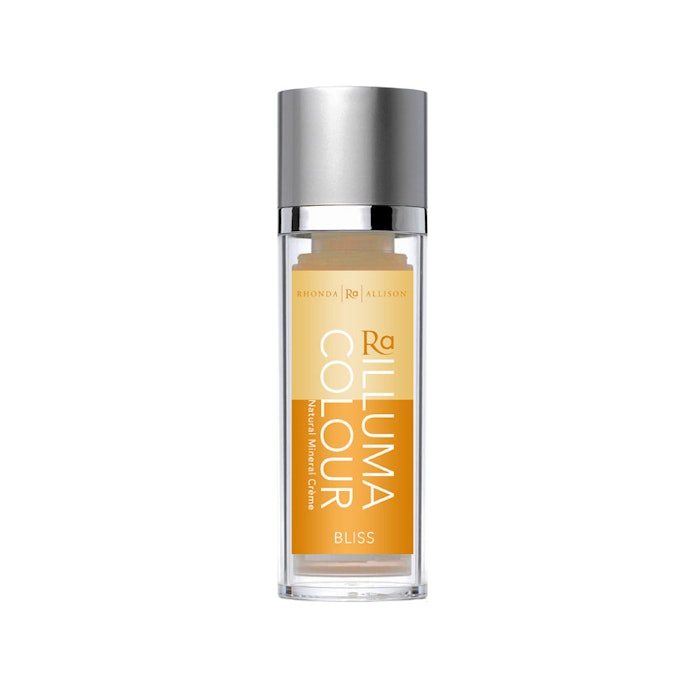 Rhonda Allison's new RA Illuma Colour Natural Mineral Crème, a nutrient-rich finisher, uses potent antioxidants, vitamins and minerals to give the skin a natural, luminous glow and flawless, fresh complexion, while also providing pro-youth support.
Pro-Youth Support
Infused with rich omega-6 essential fatty acids (linoleic acid) and omega-9 fatty acids (oleic acid), the RA Illuma Colour Mineral Crème:
hydrates;
softens;
nourishes; and
provides anti-inflammatory support to skin cells.
Boosted with colostrum, which is high in vitamin D, the Mineral Crème also stimulates cell regeneration and improves skin elasticity.
This elegant formula also uses natural Olea europaea (olive) fruit oil and tocopherols (D-alpha) to:
Deliver antioxidant and pro-youth support;
promote cellular growth;
absorb UV radiation; and
reduce the formation of free radicals to prevent cell damage and firm the skin.
Powerhouse Ingredients
The retinol in the formula stimulates cell turnover and collagen production, while natural zinc oxide provides nonirritating, broad-spectrum UV protection.
Together, these powerhouse ingredients work to bring the skin to optimum health while giving the skin a beautiful, radiant glow and flawless appearance.
Healthy Option for Achieving Luminosity
"Many of us put great care into finding just the right serums, moisturizers, eye creams, and daytime protection to bring the skin to optimum potential only to cover it with inferior ingredients," said Rhonda Allison, founder and CEO of Rhonda Allison Cosmeceuticals and RA for Men Skincare.
";We created RA Illuma Colour as a healthy option to achieve that touch of color and luminous glow, while supporting pro-youth goals."
The RA Illuma Colour is available in three shades: Bliss, Enlighten and Muse.
Rhonda Allison Cosmeceuticals, a professional skin care company, specializes in providing cosmeceutical skin care products, extensive education and services to licensed aesthetic facilities.

Deviating far from the mainstream, Rhonda Allison creates solutions for all skins using pure, fresh formulas that combine nature and science. For more information, visit www.rhondaallison.com.