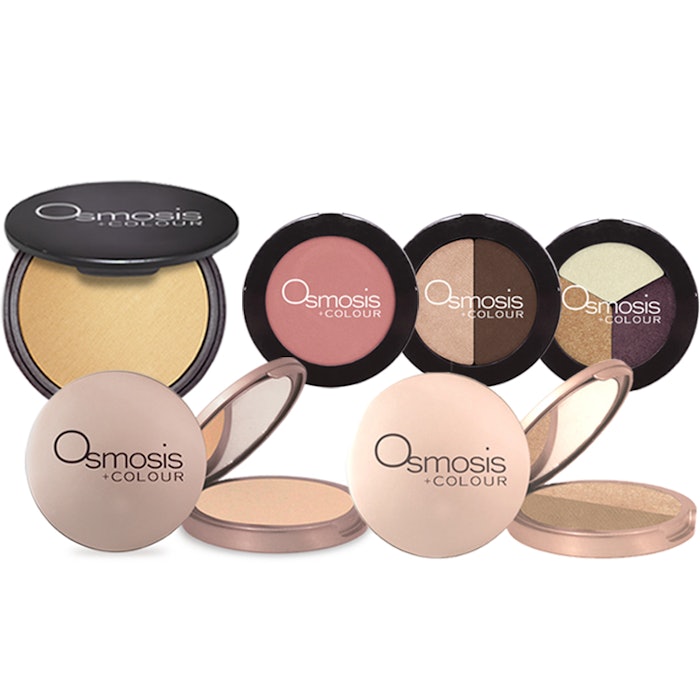 Moringa Makeup Collection includes seven different makeup products that all include the trending ingredient of 2018–moringa. This makeup collection uses moringa to pack its formulas with protein, calcium, iron and vitamins C, E and A while providing the skin with anti-aging and acne-fighting properties. To get the most benefits from this superfood ingredient, Osmosis used moringa in its oil-form.
Included in Collection
Eyeshadow Trios: includes 10 different shade combinations each having a light shade for highlighting and a deeper shade for defining the eyes. 
Pressed Base Foundation: includes 14 different shades ranging from light to medium skin tones, and includes SPF 27+ in its semi-matte formula.
Blushes: with nine different shades, these blushes have a matte finish and range from pale pink shades to deeper coral shades. 
Contour Duo: this compact includes a matte bronzer with a highlight shade to bronze, contour and highlight the skin.
Water Colors Loose Eyeshadow: this hydrating formula includes six different shades from neutrals to more colorful options that provide a radiant glimmer.
Eyeshadow Duos: includes five different shades that include a deep color and a light color all formulated to have a matte finish.
Finishing Powder: formulated to set your makeup to keep it lasting all day long, this powder has a matte finish. 
877-777-2305, www.osmosisskincare.com