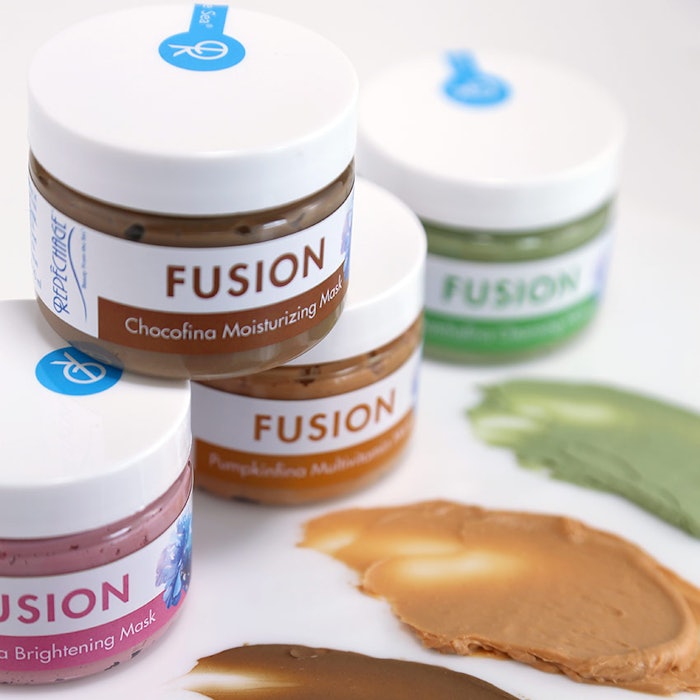 The at-home FUSION Face Mask Collection features four masks that serve a specific purpose and can easily be used at home.
The collection includes:
Chocofina Moisturizing Mask: Organic cocoa and coconut oil help to restore and replenish moisture, while seaweed, kaolin clay, aloe, rosewater and hyaluronic acid help skin look and feel smooth, soft and refreshed.
Matchafina Cleansing Mask: Deep cleans to reveal softer, smoother skin with kaolin, diatomaceous and illite deep cleansing clays. Matcha green tea and seaweed help improve skin texture and overall complexion.
Berryfina Brightening Mask: Helps to reveal a more luminous-looking complexion and improve the appearance of dull, tired skin with blueberry and strawberry. Soothing calamine and deep-cleansing illite clay help reveal a healthy glow.
Pumpkinfina Multivitamin Mask:  Skin-refining pumpkin and vanilla, containing Vitamins A and C to renew moisture help skin look and feel younger. Triple clays deep cleanse, leaving skin looking soft, smooth and refreshed.  
Each jar holds enough for ten applications, and can be used two to three times a week. Masks can be used individually or combined for a customized, at-home spa experience. 800-248-7546, www.​repechage.​com