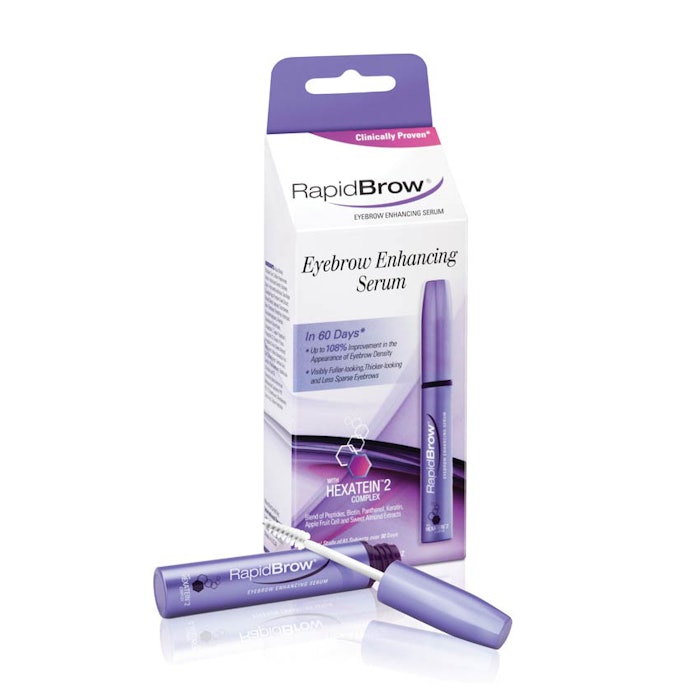 To purchase RapidBrow Eyebrow Enhancing Serum or any other Rocasuba products, please visit www.rocasuba.com, call 877-760-6677 or e-mail info@rocasuba.com. 
Youthful, fuller- and thicker-looking eyebrows can be yours with new RapidBrow Eyebrow Enhancing Serum. From the creators of the award-winning RapidLash Eyelash Enhancing Serum, new RapidBrow works to help condition and improve the appearance of fuller eyebrows in as little as 60 days!
Specifically formulated for eyebrows, new RapidBrow Eyebrow Enhancing Serum features Hexatein®2 Complex, a unique proprietary mix of six highly effective fortifying ingredients, essential proteins, vitamins and other moisturizing and conditioning ingredients, to boost eyebrow density, while adding shine and softness. RapidBrow is ophthalmologist tested for safety and easy use.
According to esteemed celebrity makeup artist Nick Barose, a well-groomed, natural brow can make anyone appear more youthful and polished. To help his clients get the look with RapidBrow Eyebrow Enhancing Serum, Barose recommends painting along the natural arch of the brows in the morning and at night, by applying soft, feathery strokes. This will help fill in sparse brows and give users the appearance of fuller, bold brows in as little as 60 days!
Six key ingredients and brow-enhancing benefits
Potent polypeptides and amino acids. Comprised of beneficial amino acids to help support more voluminous-looking brows
 
Vital vitamins. Biotin, Panthenol and rich minerals join forces to help fortify the appearance of brows
 
Keratin. A building block of hair which helps boost the protein structure for healthier-looking brows
 
Apple fruit cell extract. A revolutionary anti-aging ingredient from the stem cells of a rare Swiss apple that helps create the appearance of more youthful-looking brows
 
Sweet almond extract. A rich emollient which helps to add shine, sheen and softness to brows
Two quick steps to bold and healthier-looking brows
To prepare for the application, start with a clean, dry area.
 
Apply using the brush applicator along your natural brow line with a few quick strokes, the bristle brush helps set and tame the brows, while the serum delivers conditioning agents. For best results and added benefits throughout the day, apply once in the morning and once in the evening. Recommended for daily use to maintain the appearance and condition of your brows.
For more information on and how to order RapidBrow, contact Rocasuba, Inc., the official distributor in United States and Canada at 877-760-6677 or info@rocasuba.com.