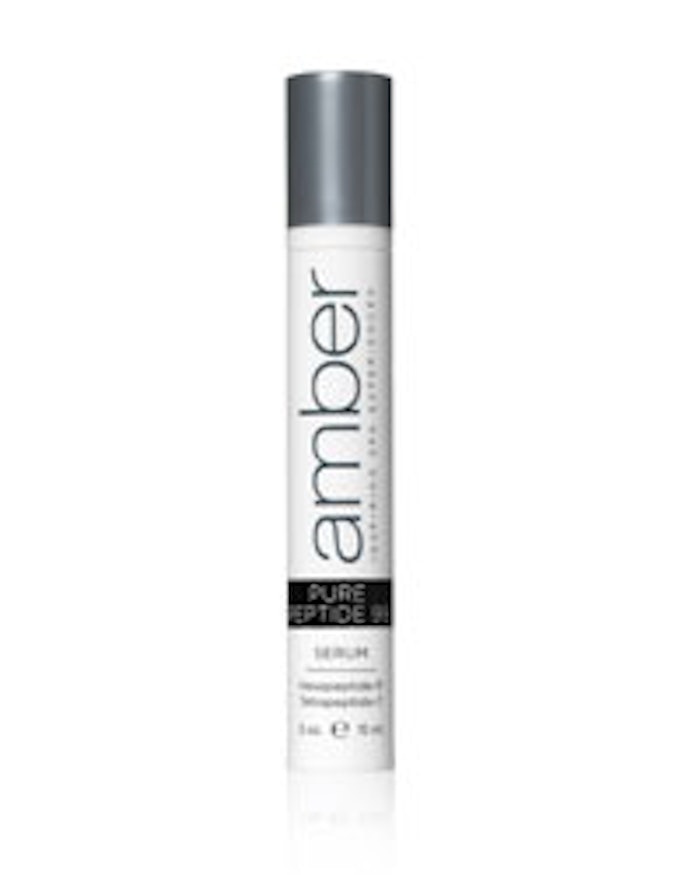 To purchase Pure Peptide 99 or any Amber Products, please visit www.amberproducts.com or call 800-821-9188.
A powerful formulation that delivers 99% peptides to help reverse the skin aging process. More than 90% of premature aging is caused by photodamage resulting in a loss of collagen and elasticity, wrinkling and hyperpigmentation.
Pure Peptide 99 fights these results by combining eight cutting-edge peptides to enhance collagen production, override harmful enzymes and inhibit damaging melanin production; therefore, addressing all signs of aging. Matrixyl 3000 and Syn-Coll promote collagen synthesis while 24% hexapeptide-11 firms and tones the skin. Hexapeptide-8 and pentapeptide-18 band together to reduce and prevent wrinkles. Nonapeptide-1 brightens photo-damaged skin, while tripeptide-1 protects against further UV damage.
This pure formulation penetrates the skin easily and breaks down quickly for maximum results, making Pure Peptide 99 serum the most sought-after of all peptide skin care products on the market. Pure Peptide 99 can be used on all skin types and is best when used under a masque during treatment.
Amber Products suggests the Pure Paraffin Facial Masque for maximum delivery of the serum. The heat of the paraffin opens the skin's pores, while the masque forms a barrier for the serum to be driven into the skin.
The result is firmer, tighter skin, a more even complexion, increased collagen production, and a decrease in wrinkle and fine line depth. For at-home care for the client, Amber Products suggests the Age Defense Collection and the Hydro Collagen retail serum for every day use.
To order your Pure Peptide 99 today, or any Amber Products, or to learn more about the company, visit www.amberproducts.com, or call 800-821-9188.