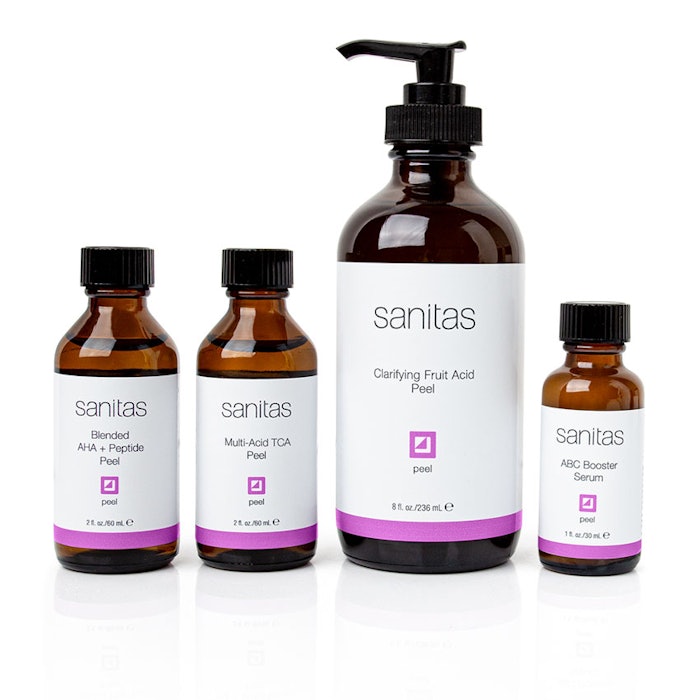 Sanitas Skincare's Blended Peel Collection is formulated with a combination of acids. Each acid in the formula is able to target a different layer of the skin. Together, they work as a team to give your clients a wider range of benefits. The diversity of acids allows the peel to retexturize, clarify, detoxify, reduce excess pigmentation, firm and boost acidity and moisture levels in a way that single-acid peels cannot. 
Clarifying Fruit Acid Peel
Clarify congested or acneic skin with this gel peel. Powered by 4 fruit acids, willow herb extract, black currant and raspberry leaf extracts, this peel refines skin's texture, clears the way for easier extractions and helps protect skin against environmental stressors.
Blended AHA + Peptide Peel
Blend of glycolic, lactic and mandelic acids that helps reduce discoloration, refine skin tone and boost healthy skin function. Age-defying peptides firm skin, reduce irritation and lessen post-peel recovery time.
Multi-Acid TCA Peel
Reduce scarring, discoloration and other texture or pigmentation concerns with this blend of TCA, salicylic and lactic acids. Niacinamide and saccharide isomerate calm irritation, reduce pore size and sebum production and reinforce the skin's barrier. 
ABC Booster Serum
Named for vitamins A, B and C, this leave-on finishing step can be added to any peel service to enhance peeling, deepen milder peels and boost overall results. Super-charged with retinol, niacinamide and skin-brightening vitamin C, this serum supports skin's regrowth, cell turnover, collagen and elastin production.
 888-855-8425, https://­­sanitas-skincare.​com