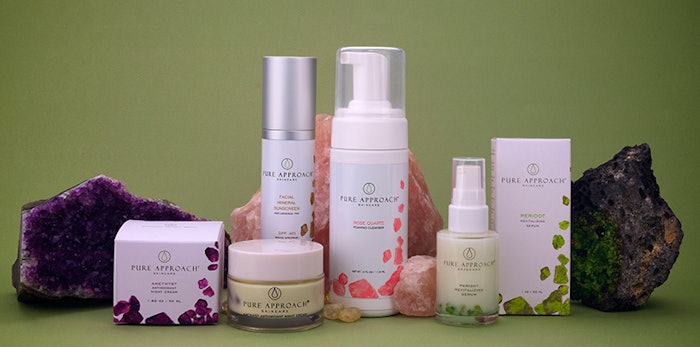 Experience the benefits of gemstones and nutrient-rich botanicals to thoroughly nourish your skin.  Pure Approach combines active natural elements with the healing power of minerals to enhance your skin's natural beauty.
Our products contain healing, yet active ingredients like adaptogens, sea minerals, aloe vera, peptides, stem cell and real gemstones. Our line consists of a simple regimen:  Rose Quartz Foaming Cleanser, Peridot Rejuvenating Serum, Amethyst Antioxidant Night Cream and Mineral Only Tinted SPF. Once products are complete, keep the gemstones to create an alkaline beauty water! 
Pure Approach is perfect for all skin types, especially sensitive skin. It helps to hydrate, brighten, calm inflammation, protect and tighten the skin.
We welcome the opportunity to collaborate with other estheticians/spas to share our mission. Contact us at kathryn@pureapproachskin.com to learn more and receive a free sample of our Amethyst Antioxidant Night Cream.
Visit us at www.pureapproachskin.com and Instagram.
Stay beautiful!!!