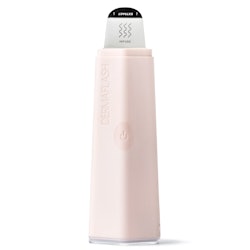 Dermaflash Dermapore+ is the next generation of the brand's award-winning Ultrasonic Pore Extractor + Skincare Infuser. The device now features boosted 35K Hz Ultrasonic Vibrations and Ionic Technology, plus a specially formulated Prep Mist to optimize results from every treatment.
The device is available in four colors (blush, stone, pop pink and sea foam) and has two modes (Extract and Infuse) to unclog pores and deeply infuse serums, moisturizers and masks. The positive ions in the Dermapore+ stainless-steel spatula work synergistically with the negative ions in Prep Mist, attracting dirt, oil and debris like a magnet.
With the new Dermapore+, at-home users and professional estheticians can now perform extractions that are high-tech, hands-free and painless. In addition, users can enhance the efficacy of their favorite skin care products with the Infuse mode. This setting helps deliver active ingredients deeper into the skin and boosts circulation with an invigorating micro-massage sensation.
Dara Levy, Dermaflash founder, said, "Dermaflash revolutionized the skin care industry by reinventing dermaplaning, giving both estheticians and women at home the ability to safely and beautifully exfoliate and remove peach fuzz. Dermapore+ takes your skin care routine to the next level. Our latest technology is a hands-free superhero that effortlessly clears and cleans pores and infuses your favorite skincare more effectively than ever before. Use our 'magic wands' together to reveal your smoothest, clearest, most glowing skin."
Main Features:
Boosted Ultrasonic Power: 35K Hz to remove stubborn clogs with minimal pressure and zero irritation
Next-gen Ionic Technology: Draws out impurities from deep within pores, plus improves skincare absorption
Prep Mist: Optimizes your results from every Dermapore+ treatment
Custom-curved Stainless-steel Spatula
Two Modes: Extract and Infuse