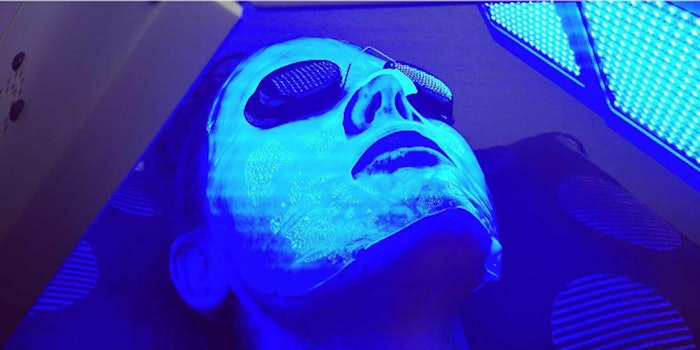 At IECSC Las Vegas, Lightwave is demonstrating how topical skin care can be infused into the skin with light emitting diode (LED) technology.
The company has developed Topical Light Infusion (TLi),which combines the effectiveness of LED therapy and functional topical formulations into one treatment program. This technology can safely and effectively address a variety of cosmetic concerns on the face and body.
Traditional professional grade LED offers significant stimulation on a cellular level to induce metabolic activity. Topical formulations offer high quality ingredients that can help repair and protect the tissue on a superficially. The fusion LED and topicals offers a novel method to infuse both light (photon) energy and topicals deep into the tissue to increase the effectiveness of both the LED and topical and induce a change creating newer healthier tissue.
Specifically, Lightwave demonstrated a hyaluronic hydrolyzed collagen gel mask infused into the skin with LED blue light.The light drives the hyaluronic acid, collagen and peptides into the skin. Once it infused into the skin, the temperature of the skin drops and is cold to the touch. The total treatment time is quick, around 25 minutes.