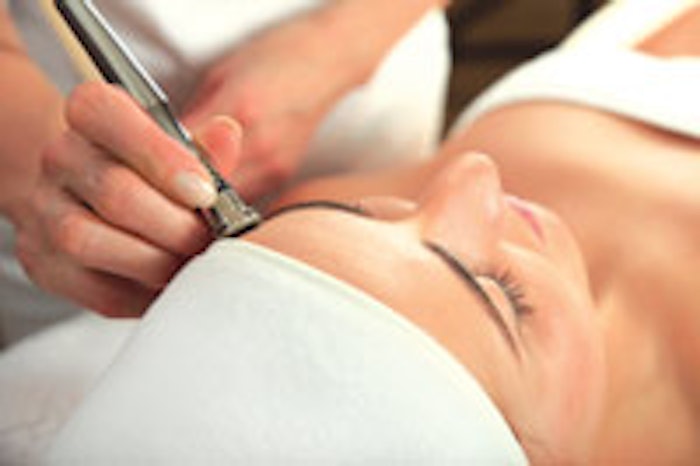 Achieving greater knowledge of corrective esthetics via microdermabrasion in today's modern and competitive market is key to successful client results that ultimately lead to referrals, increased retail sales and return business. These three R's are and should be the focus of any corrective skin care facility.
In order to perform safe and effective clinical skin care treatments more confidently and competently—while providing the highest level of care to clients—skin care professionals need to learn how to safely blend the modalities of chemical and mechanical exfoliation in order to customize services for each client's skin goals. By putting these practices into place, a thriving business is possible, built with loyal clients who won't go running to cash in on the latest deal-of-the-day offer.
Knowing exactly how to blend modalities with diamond-tip microdermabrasion delivers safe and consistent results faster than using one modality. Learn how to provide these results based on chemistry and skin biology, while staying within your scope of practice.
Diamond-tip microdermabrasion
Diamond-tip microdermabrasion is safe, cost-effective and controllable.
Diamond tips will not interact as a chemical would with the skin;
Clients can see their dead skin removed after diamond microdermabrasion, which helps encourage repeat business;
There is no health risk to the esthetician or client with diamond tips, because the diamond material is adhered to the tip and won't come loose during the treatment;
Diamond-tip microdermabrasion can be used on virtually every client, providing quick results, which is why it's a money-maker. You can safely use enzymes and acids with diamond tips to get quick and safe results; and
Diamond tips last 50 treatments, with costs starting at approximately $20.
Microderm Q&A
Following are common questions asked by both skin care professionals and spa clients in regard to diamond-tip microdermabrasion.
What results can clients expect with diamond-tip microdermabrasion?
Smoothing and refinement of granular, rough skin suffering from sun damage.
Tightening of enlarged pores.
Clearer-looking skin due to reduced congestion.
Diminished appearance of fine lines and wrinkles, minor acne scars and narrow stretch marks.
Improved skin volume and tone by stimulated blood flow, oxygenation and collagen synthesis encouraged by continued treatments.
Fresh-feeling skin that is smooth and oxygenated.
How does the treatment work? Diamond-tip microdermabrasion works in two ways:
1. By gently exfoliating or removing the outside layers of the skin, revealing a smoother, fresher complexion; and
2. Using the vacuum to help stimulate microcirculation, increasing the blood supply that provides nutrients needed for skin regeneration and repair for new collagen, thereby improving skin texture and elasticity.
Is it painful? The short answer is no. The most sensitive clients might experience a sensation resembling a kitten licking their skin. After the treatment, blood circulation and stimulation from the vacuum can often leave the skin feeling tight, firm and plump, with visible signs of a healthy, pink glow. Normal activities can be resumed almost immediately within three days of the treatment, as long as sunscreen and a regular skin care regimen is used.
What skin issues can be addressed? Diamond-tip microdermabrasion gradually abrades epidermal cells to improve a vast range of skin concerns, including sun damage; blackheads and comedones; uneven and granular skin; superficial scars; fine lines and wrinkles; and enlarged pores.
Is it safe? Yes; this nonchemical method eliminates potential burns or allergies associated with other exfoliation methods, making it a controllable, gentler alternative to chemical peels. Microdermabrasion can be performed on most skin types and tones, as well as on reactive, sensitive skin. The treatment is executed slowly and progressively, removing only the superficial layers of the epidermis to reveal a youthful complexion and glow. The skin care professional has total control of how much skin is removed and should be working under the strictest hygiene standards, using sterile treatment tips to ensure safety.
How long does a diamond-tip microdermabrasion service take? Each treatment takes 20–30 minutes and, when combined with a facial, it can take 45–60 minutes.
How many treatments will a client need? Age and skin condition determine the number of treatments required to achieve an optimum effect. For most, a minimum of six treatments is recommended. Closely spaced treatments, combined with maintenance sessions, provide the best results.
Can microdermabrasion be used on the body? Yes, it can be performed on the entire body, including the face, neck, décolleté, hands, feet, legs and back.
What about wet microdermabrasion? Although this may feel good for clients, the results are far less impressive. Much like removing calluses on feet, results are better with a dry exfoliation.
Can solutions be infused into the skin by using reverse vacuum? No; only electrical modalities, such as galvanic and microcurrent, are trusted and scientifically based to truly infuse solutions into the stratum corneum. With this in mind, diamond-tip for exfoliation and a microcurrent treatment for infusion are recommended.
Can you use alpha hydroxy acids (AHAs) after microdermabrasion? This is big no-no. It would not be a good idea to apply AHAs on freshly exfoliated skin that is now more sensitive and open. However, used before microdermabrasion, AHAs can work hard to loosen the desmosomes that hold dead skin cells together. Once loosened, microdermabrasion can easily exfoliate dead cells with fewer passes and finer grit, which is safer and more effective.
Are You Missing out?
In order to be successful in this competitive field, skin care professionals must understand how to educate and motivate clients, as well as how to provide quicker results and points of difference.
Offering 30-minute menu items based on correction allows clients more time and money to budget for monthly treatments. Offering diamond-tip microdermabrasion is chemical-free, safe on most skin types, provides quick results and has a high return-on-investment. Clients experience an instant result, which helps them see the service as a necessity, not a luxury.
If you don't currently offer microdermabrasion, you may want to track the number of times clients ask if the service is available and multiply that number by $75–100 to figure out how much income you may be missing out on.
Danielle Wachowski is an esthetician certified in oncology esthetics, is NCEA-certified and specializes in teaching advanced esthetics for Skin Smooth PRO. She has worked for several cosmeceutical companies in education and sales, and is passionate about helping estheticians learn the art of corrective skin care modalities in a product-neutral way. Wachowski is a member of the 2014–2015 Skin Inc. Editorial Advisory Board.