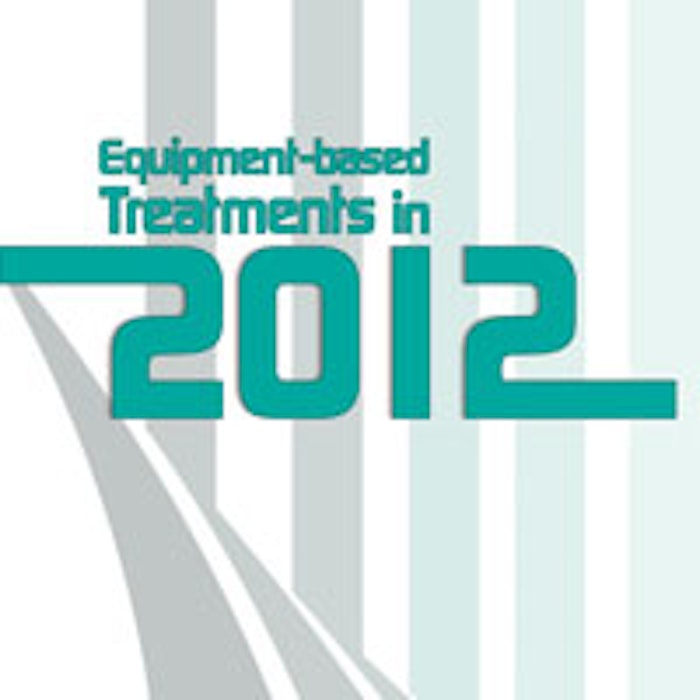 Editor's note: Skin Inc. magazine recommends checking with your state board before offering any new equipment-based service; click here for state board contact information.
As the year draws to a close, skin care professionals throughout the industry can't help but wonder what 2012 will bring for their businesses.
Although many issues that affect a skin care facility these days are out of an owner's control, such as the economy, many others are opportunities for the growth and evolution of their businesses. Often, equipment-based services can offer a much-needed competitive edge; something that your facility offers that the one down the block doesn't. These services can provide clients with what they need: results; and they can provide skin care facilities with repeat clients who purchase treatment series, which result in bankable profits and full appointment books. "Success in 2012 will be found in treatments that offer real results, emphasize monthly visits and are affordable for clients," emphasizes Greg Stickley, vice president, sales and marketing for Edge Systems Corporation. Other equipment, such as spa furniture, may not offer visible skin improvements, but can set your spa apart with streamlined comfort for the client, stunning decor and usefulness for hardworking skin care professionals.
In 2012, many of the most popular equipment options for this industry are evolving to offer new features, making them more desirable than ever before for both the spa and the client. Following is a rundown of what you can expect out of spa furniture, microcurrent, skin irregularity, and IPL and laser equipment in the coming year.
Spa furniture
From minimalist to eco-friendly to plush and luxurious, spa furniture should reflect your facility's place in this industry. Along with its visual appeal and its importance to conveying your brand, spa furniture also has to meet the needs of clients and your skin care professionals in the treatment room. If massage therapists have to give six Swedish massages a day using an improper treatment table, they are going to get worn out—and burned out—very quickly, which is not good for business. According to Vince Legut, sales manager for Pevonia Equipment, massage tables are becoming more functional and are offering more options to help set your massage services apart.
Heated mattresses are becoming more popular, allowing for client comfort while experiencing a treatment. "There is no need for an additional pre-heating pad since the heat is already built into the mattress," explains Legut.
Other options for massage tables include chromatherapy built into the table, allowing massage treatments to have colored light add-ons for more service flexibility. "Color can be set to the client's choice, or can rotate through the spectrum," he says. Along with color, music and sounds are available as well, helping expand the massage service. "These help relax all the senses, and the music and sound selections can be either provided by the spa or can be the client's choice," states Legut.
Other trends to look out for in the coming months include the growing availability of multifunctional beds that can be converted for both massage and facials, and multifunctional equipment for wet treatments, allowing for more flexibility and income-generation for smaller spas with fewer rooms. Also, according to Legut, Americans with Disabilities Act (ADA)-compliant furniture is going to become more available. "This can open the spa up to a new client base and can also provide spas with a tax credit for purchasing the equipment. Of course, owners should always check with their accountant for details about applying for this tax credit before purchasing the furniture," says Legut.
Microcurrent
"Microcurrent as a technology is only in its infancy," says David Suzuki, president of Bio-Therapeutic, Inc. "As more and more clinical studies are performed to enhance frequency knowledge, technology will evolve to accommodate these new requirements." And 2012 promises to be a year where microcurrent will become a more accepted results-oriented anti-aging service for clients—thanks to the skills and expertise of the skin care professionals using the devices. "We are going to see greater utilization of microcurrent," agrees Darren Starwynn, OMD, and president of Eastwestmed, Inc. "More skin care professionals will be using microcurrent in the coming year."
Along with greater adaptation of this technology, skin care professionals will continue to get more familiar with how frequencies can help improve clients' appearance with long-term results. "As the technology evolves, there will be more precise techniques. A lot of the early microcurrent education was not that great. There was not a lot of understanding about polarities and frequencies. It still works if used this way, but not as well," explains Starwynn. "In 2012, more educators are going to be offering more precise, more effective microcurrent knowledge to skin care professionals. Results from microcurrent can range from OK to amazing depending on the skill level of the therapist."
Along with an improvement in education, techniques promise to become more refined as well; for example, boosting results by using colored light. According to Suzuki, microcurrent mini treatments will become more popular in 2012. "Manufacturers will continue to develop more effective devices and accessories that focus on specific objectives, such as expression aging, and fine lines and wrinkles. Most of these services can be performed in 10–12 minutes opposed to a traditional 40-minute microcurrent treatment," says Suzuki.
Offering microcurrent in your skin care facility can provide the results your clients are looking for without resorting to injectables and fillers, and it is currently within the scope of practice for skin care professionals to offer this technology in most states.
Skin irregularity equipment
Equipment that addresses skin irregularities can often be a tricky regulatory topic. However, according to Pat Lam, president of Skin Care Consultants, it is important that the machines used in skin care facilities to address skin irregularities, such as skin tags, only work on the skin's surface. As always, it is important to check with your state board to see if using this type of equipment is within your scope of practice, and to receive proper training before offering any new services. "These days, skin care professionals are looking for equipment to help them make money and get fast results for clients. Equipment for skin irregularities can set a spa apart from the competition. It's an add-on service that brings high income in a short period of time," says Lam.
The growth in this type of machinery for 2012 is all about education. "The esthetician has to be educated in skin irregularities," insists Lam, who says that estheticians need to be trained to analyze the skin more effectively. It is with this training that skin care professionals will better be able to work with skin irregularity equipment and help their clients have smooth, bump-free skin. "The key to success in this new era of treatment is to educate the esthetician," states Lam.
IPL/laser equipment
Although many pieces of laser equipment in this category are out of the scope of practice for estheticians, it is important for skin care professionals working in medical spas to know about these types of machines and their evolution in 2012. According to Giora Fishman, vice president of Radiancy, Inc., light-based equipment is a growing solution for plastic surgeons and dermatologists. "Plastic surgeons are looking to replace the business they've lost over the past few years and are turning more to esthetic equipment, specifically IPL and laser, which they previously shied away from," he explains. "Plastic surgery practices are hiring estheticians more and more to get esthetic skin care businesses going under their umbrella. This isn't new, but it will probably intensify."
Along with this trend, Fishman also sees light-based devices offering skin care facility owners an opportunity for differentiation from their competition. "In day spas, light-based equipment services are not a widespread phenomenon. Many estheticians aren't familiar with this technology," he states. And although not all states allow skin care professionals to operate all light-based machinery, Fishman contends that more and more are beginning to allow it. "Skin care professionals need to keep up with their state boards. For purely esthetic procedures, such as hair removal, the ability to use light-based devices is becoming more available to estheticians. That is something the esthetic market should really be looking at, because it's an area of growth for the field."
Continue to be relevant
With a new year on the horizon and new ideas, trends and regulatory acceptance in different equipment categories, 2012 might be the year you consider offering equipment-based services that provide the results your clients are seeking and the regular income your facility needs. Check out the competition in your area and see what is being offered at other skin care facilities. Poll your loyal clients about whether they would consider receiving these types of services in your spa. If you determine whether this is the right evolution for your business in 2012, brainstorm with your team about the best way to market these equipment-based services and then shout it to the rooftops. After all, in this always-changing industry, it is more important than ever to evolve with the times and continue to be relevant to the results-oriented consumer.